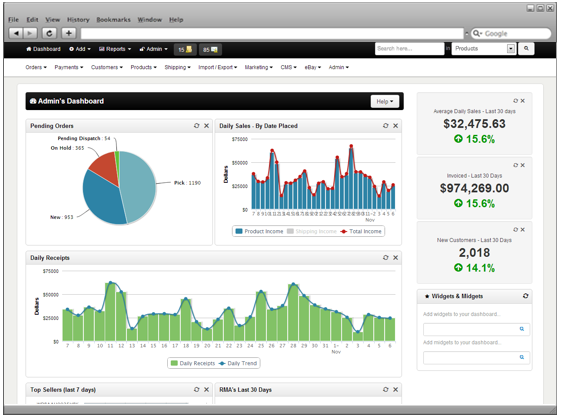 Realtime Dashboards
Stay on top of things with your own realtime dashboard. Dashboards are designed to keep you up to date by displaying important information in an interactive fashion. Drag and drop "widgets" onto your dashboard and Neto will automatically save your changes to your account.
Shipping Label Printing & Manifest Generation
Print shipping labels and manifests for Australia Post eParcel, TNT, Toll Ipec, Courier Please, Australian Air Express, Allied Express, Direct Freight & Star Courier in just a few clicks. Generic labels are generated for non-supported carriers
Dropshipping
Dropship your products from multiple suppliers. Even split an order and dropship each part separately with different suppliers. Automatically push orders to dropshippers via email, FTP or to a web service.
Automatic Customer Notifications
Neto automatically emails your customer with dispatch notifications and shipment tracking numbers when you or your drop shippers send orders.
Batch Order Processing
Batch order processing reduces pick and pack times significantly and allows different warehouse operators to work on specific tasks. Change the status of orders in bulk, receipt payments to orders in bulk and bulk print invoices, picking slips and shipping labels.
Returns and Disputes
Offer your customers a self service returns console and raise Return Authorisations (RA's) directly from within your Neto back-end. Keep track of the status of each RA, record reasons for returns, upload images and add notes. When you are ready define an RA outcome and issue a credit or a replacement at the click of a button.
Back Orders
Accept backorders, place entire orders or individual lines on backorder and report on the number of items you have on backorder. A backordering system is essential for most wholesalers and pre-order arrangements.
Powerful Search and Sort
Search through orders using any order field. Sort your results and filter using multiple fields in a single result.