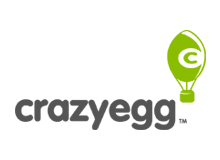 What is the 'Crazy Egg' Add-on?
Choose Crazy Egg heatmaps when Google Analytics isn't enough. Because Google Analytics & Site Catalyst Leave Questions Unanswered, Trust Crazy Egg Visualizations to Help You Understand Your Users.
This add-on was built by Crazy Egg.
Visit Add-On Website
Setup Instructions
To get started, copy the code provided by Crazy Egg.
In your control panel, click on the and select Analytics & Optimisation in the menu. Scroll down to Crazy Egg and move your cursor over the image. Then click on Install button. Paste in the code provided by Crazy Egg and click Install.