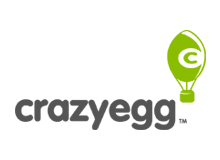 What is the 'Crazy Egg' Add-on?
Choose Crazy Egg heatmaps when Google Analytics isn't enough. Because Google Analytics & Site Catalyst Leave Questions Unanswered, Trust Crazy Egg Visualizations to Help You Understand Your Users.
This add-on was built by Crazy Egg.
Visit Add-On Website
Setup Instructions
To get started, register your account for Crazy Egg.
Once logged in, locate your code in the instructions provided here.
Within Neto, navigate to Neto addon's store, install Crazy Egg and it will ask for the Crazy Egg code. Paste the code and save.