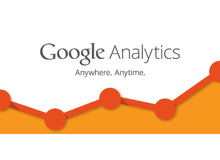 What is the 'Google Analytics' Add-on?
Google Analytics lets you measure your advertising ROI as well as track your Flash, video, and social networking sites and applications.
Google Analytics can track visitors from all referrers, including search engines and social networks, direct visits and referring sites. It also tracks display advertising, pay-per-click networks, email marketing and digital collateral such as links within PDF documents.
This add-on was built by Google.
Visit Add-On Website
Setup Instructions
When you signup with Google Analytics, you will receive a account ID somthing like UA-9999999.
In your control panel, click on the and select Analytics & Optimisation in the menu. Scroll down to Google Analytics and move your cursor over the image. Then click on Configure button. Under Keys section, paste the Google Analytics Account ID from Google and save the change.
Need help with Google Analytics? Try these articles: