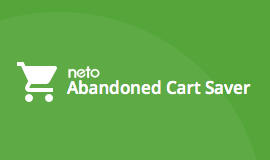 What is the 'Abandoned Cart Saver' Add-on?
An average of 67.75% of all online shopping carts are abandoned. Email customers who have abandoned their cart to increase your sales.
This addon was built by Neto
Add-ons and Integrations built in-house by Neto are documented and supported by our customer service team. If you're having issues with this integration, let us know!
Setup Instructions
From the Neto dashboard, select Addons.
Scroll down to Abandoned Cart Saver and click on Install button.
Once activated, customers who abandoned their cart but have entered their email address will be sent an email. You can customise the email sent to them.
For more details, check out the article below.
Need help with Abandoned Cart Saver? Try these articles: