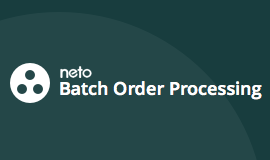 What is the 'Batch Order Processing' Add-on?
Pick or create consignments for orders in bulk. For larger order volumes, this can speed up your order processing.
Please Note: This addon is not available on the Extra Small, or Small plans.
This addon was built by Neto
Add-ons and Integrations built in-house by Neto are documented and supported by our customer service team. If you're having issues with this integration, let us know!
Setup Instructions
Once activated, the Bulk Pick and Bulk Create Consignments & Dispatch buttons will appear at the bottom of the order listing in the control panel. Note: Only Bulk Pick will appear in the New orders list.

Check out the articles below for more details on processing order in bulk.
Need help with Batch Order Processing? Try these articles: