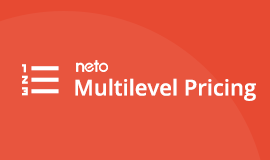 What is the 'Multilevel Pricing' Add-on?
Allows you to offer discounts for customers ordering products in greater quantities. Set customised price levels based on the quantity ordered.
This addon was built by Neto
Add-ons and Integrations built in-house by Neto are documented and supported by our customer service team. If you're having issues with this integration, let us know!
Setup Instructions
Once activated, a Multilevel Pricing section will appear for each product in the control panel:

Click on the Add new band button to add a new pricing level. Enter the minimum and maximum quantity and the unit price for this level.
You can add more bands to specify the different unit prices for each quantity range.
If you have the Customer User Groups turned on, you can click on the Show All button to display the other pricing groups.