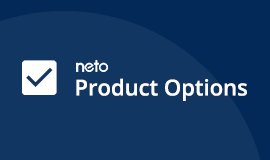 What is the 'Product Options' Add-on?
Non-inventoried extras you offer the customer at the point of purchase. For example, the option to pay for gift wrapping or enter a gift message.
This addon was built by Neto
Add-ons and Integrations built in-house by Neto are documented and supported by our customer service team. If you're having issues with this integration, let us know!
Setup Instructions
Once activated the Extra Options section will appear on the product settings in the control panel:

Need help with Product Options? Try these articles: