Integration Overview
Xero is a cloud accounting application for SME's. Over 120,000 Australian businesses use Xero to power their businesses.
Neto integrates with Xero for seamless account management. Neto's Xero integration eliminates the need for duplicate data entry and can even extend the functionality of your Xero solution. When used in conjunction with Neto's Unleashed integration, you can create a powerful ecosystem of e-commerce, inventory and accounting.
Did You Know? Neto staff can perform the setup for you for a flat fee. Click here to find out how
What Data is Integrated?
Neto to Xero:
Invoices
Credit Notes (RMA's)
Payments
Customers
Products
Purchase Orders
Xero to Neto:


Accounts
Tax Rates
Customers
Products
​

Please Note: SKUs have a max Length of 25, cannot contain spaces or special characters. We recommend modifying your SKUs in Xero to ensure they meet this requirement prior to integration.
Handling Large Transaction Volumes With Ease
Neto does not limit the number of invoices you enter per month, with many Neto customers processing thousands of invoices every single day. Xero however, does not recommend that customers enter more than 1,000 invoices into its application per month.
For larger and growing businesses this could become restrictive. To get around this issue Neto has developed an innovative and scalable solution that negates the need to have more than a few transactions written to Xero each day (no matter how many invoices you enter into Neto). We call it "batching".
If you are a business that issues more than 100 invoices per day, you can turn on batching. As the name implies batching will automatically batch invoices, payments and credit notes by date or time and enter them into Xero as a single or just a few transactions.
Invoices, credit notes, payments and even customer statements are all managed in Neto and therefore, there is no need to have this data duplicated into your accounting system.
Our batch integration method still allows you to split income by account (so that you can record income by product category for example) and it still allows you to properly reconcile payment receipts by payment method and account.
Streamline your operations today and turn on Neto's batching feature for Xero!
​
Integration Logs
Every single invoice, customer, payment or credit note that is pushed to Xero from Neto is logged in the accounting integration logs. These logs provide in-depth reporting into the success or failure of each transaction as well as an overview of what has not yet been exported. From these logs you can also re-export any transaction at the click of a button.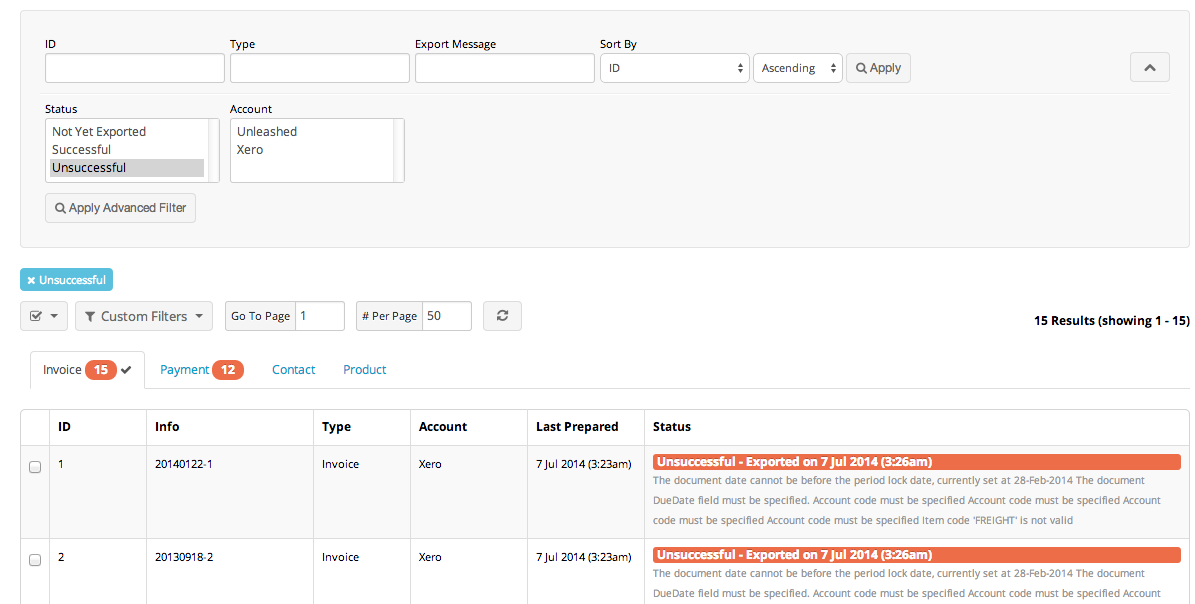 ​
Turning on Your Neto ⇔ Xero Integration
Go Live!
To go live (turn on) your new Xero integration change the status of the integration from "inactive" to "active".
​
​Running your Xero Integrated Store
Now that you have turned on your Xero integration, the system will automatically start to export and import data between the two systems based on the settings you have defined.
Integration Tasks
An integration task is an import or export process that pushes data to or pulls data from Xero.
To see a full list of integration tasks in Neto go to: Xero > Tasks.
The tasks required for your integration will automatically run on the schedule set. You can edit a tasks schedule by clicking the tasks ID number. We do not recommend editing the default schedules that have been setup for you.
Manually Initiating Integration Tasks
You can manually run an integration task at any time by clicking the "Run Task" button on the right side of the task. This will run the chosen task within a minute. Click "OK" when the popup appears to confirm your request.
Handling Overpayments
Xero does not allow you to overpay an invoice in the same way that Neto does. Instead when an order is overpaid it creates an over-payment which appears as a credit in the "Credits Pending Allocation" list, under the Xero tab.
Once an overpayment is used up in Neto, you must manually assign the over-payment as a payment against its related sale in Xero.
Important: Your bookkeeper or accounts person should periodically access this log and manually apply any used credits to their related sales in Xero.
At the end of any accounting period, this log should be cleared. This does not need to be done on a daily basis but you should try to keep this log under control.
Advanced Configuration
Advanced configuration settings can be accessed by selecting the Xero in the menu bar, then Setup & tools and clicking either the Integration ID or Name. You'll see the systems default settings under General Settings, which we recommend sticking with. If you require Advanced/Custom Configuration for your Xero setup, please contact our integration's support team for further advice.
Common API Error Messages
| Error | Reason | Solution |
| --- | --- | --- |
| Document could not be found | The invoice related to the payment is not yet exported to Xero | Run the export invoices task to export invoices to Xero. Provided the invoices are in Xero the payments will automatically be exported on next payment export run. |
| Invoice not of valid status for modification This document cannot be edited as it has a payment or credit note allocated to it | This error appears when you attempt to modify an invoice that has been paid for. | The only way to solve this is to VOID / delete the invoices in XERO and retry. Xero does not allow you to edit paid invoices. You can turn on to only export dispatched orders to Xero, this will reduce the number of times this issue happens as orders are not typically edited after dispatch. |
| The Total for this document must be greater than or equal to zero. | It's either the price/quantity in one of the line item is less than 0. | Change value to greater than 0. |
| Due date cannot be empty. | Xero require the due date on an order / invoice to the populated. Due date is auto populated by Neto however if you remove the due date this error will occur | Due date cannot be empty. Add a due date (payment section on order / invoice in Neto) |
| Account code must be specified The description field is mandatory for each line item. | An income account does not exist for one or more invoice lines. | Select a default income account to use when one cannot be found on a product level. Go to admin > accounting integration > Xero to select this. OR make sure that you have specified a valid income account for each product in your Neto data base. You can specify an income account under the accounting section of a products edit screen. Note: If you used a previous accounting integration with Neto (Saasu or MYOB) and you have old income account codes specified on products you will also received this error. |
| Account type is invalid for making a payment to/from. | The Xero account mapped to the payment method in Neto is not enabled for payments. | Login to our Xero chart of accounts and tick the "enable payments to this account" on each account that you have mapped to a payment method in Neto. |
| Account could not be found (payments) | The payment account in Xero does not have an account code. Or you have not mapped your payment methods in Neto to payment methods in Xero. | Add codes (numeric codes) to each account in your Xero chart of accounts. Make sure you have mapped your payment methods in Neto (system setup > payment config) to related accounts in Xero. |
Last Modified: 18/07/2018
Neto Version: 6.9