This addon requires the Customer Groups addon from the Neto addon store. Available for customers on Neto's medium plan and higher.
Neto customers can belong to six different user groups: A, B, C, D, E and F. Every product in the system can have a different price for each group, for example customers who belong to group A can buy the product for $20, and customers who belong to group B can buy the product for $15.
To add different pricing to products, complete the following steps:
Go to: Products > View All Products
Click on the SKU of a product to take you to that product's details. Make sure that the product isn't a parent (they have a grey chain icon next to the SKU).
Click on the Pricing & Tax link in the navigation bar.
In the Pricing & Tax section you can see the current price for user group A. Click the Show all button to reveal every single price group.
You can now enter different pricing for each group.

In this section, it's also possible to apply minimum and maximum quantities when selling the product; for example the customer must order at least 5 of a product (min), but no more than 10 (max). Please view the How can I sell products in minimum or maximum quantities? tutorial for instructions on how to do this. Also included in this section is the option of applying multiplier quantities, so that you can sell products in a certain number of multiples, for example in packs of 12.
If you do not define a price for a specific price group, the next most expensive price will be displayed to customers assigned to that price group instead.
To edit pricing on the from the product view page
Go to Products > View All Products
Click on the quick Edit view
Enable the boxes of the price groups that you would like to edit
You can now enter the new pricing into the field next to the SKU
Save the changes

To change a customer's group
By default, all customers are assigned to group A.
In your cpanel, go to Customers > View All Customers > All Customers
Click on the username of a customer.
From the drop down menu under User Group, select the pricing group for the customer.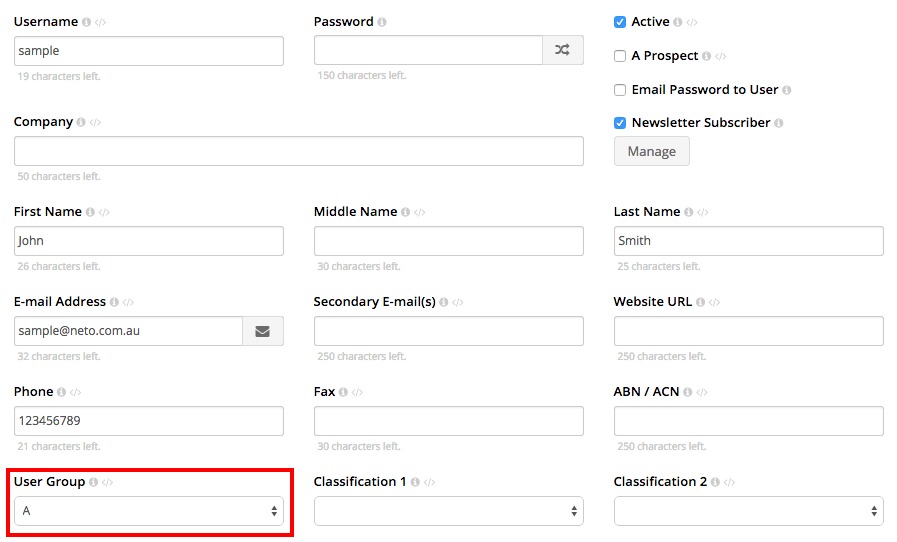 Related Articles: