Overview of the Customer Card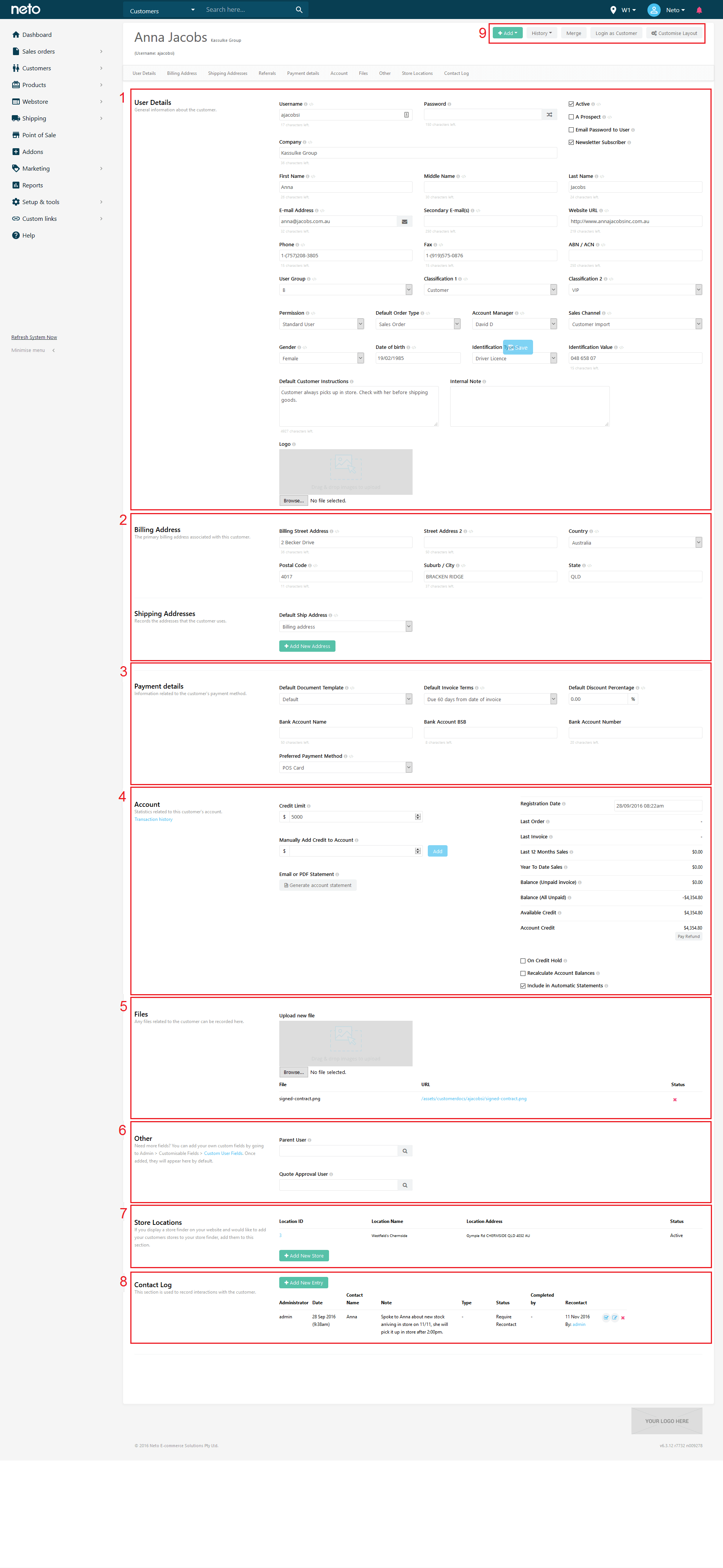 User Details
This is where you enter the general information about a customer or prospect.
If you are setting up a customer account, you can create your own password or click the random generation button and tick the Email Password to User option to notify the customer.
Select a User Group for the customer which determines the product visibility and pricing the user can see. By default this is set to Price Group A.
Addresses
The primary billing and shipping addresses associated with this customer.
You can add multiple shipping addresses here however keep in mind that when a customer checks out whilst logged in, it will automatically use the last shipping address they used.
Payment Details
Information related to the customer's payment method.
Default Document Template allows you to use different invoice templates, especially useful when running multiple businesses or serving different clients.
Default Invoice Terms gives customers time to pay their accounts.
Preferred Payment Method is just the default payment method the customer uses. They can still pay using different methods when logged in as a customer on the website.
Account
Credit Limit is useful when the customer has the option to pay on account. You must have a payment method setup for account payment so it can be selected at checkout.
Manually Add Credit to Account is another way to give a customer credit on their account. To remove the credit, just simply press the pay refund button below the available credit (will only appear if a credit is present).
It's not recommended using this method to give customers credit for RMA's. Instead, read our article on RMA's.
On Credit Hold is a way to prevent customers ordering on your site if they have an outstanding balance.
Files
Add the ability to upload related files on the customer's card. Store images and documents.
This feature requires the Customer Files addon from the Addon store.
Other
Add advanced customer fields to the customer card including permissions, classifications, identification & parent customer.
This feature requires the Advanced Customer Fields addon from the Addon store.
Store Locations
A searchable list of your stores/resellers where customers can be assigned to the closest outlet to their location. Outlets are marked on an interactive map.
This feature requires the Store Finder addon from the Addon store.
This section is used to record interactions with the customer, including times/dates.
Use the Add button to add new orders and payments quickly.
Use the History button to lookup previous orders, RMA's and wish lists.
Use the Merge button to merge two accounts together.
Use the Login as Customer on the website so you can view and test the website as a customer.
Last Modified: 28/09/2017
Neto Version: 6.4