The My Account section allows customers to manage certain aspects of their account with your web store, such as their contact details, existing orders, wishlists and any disputes they may have.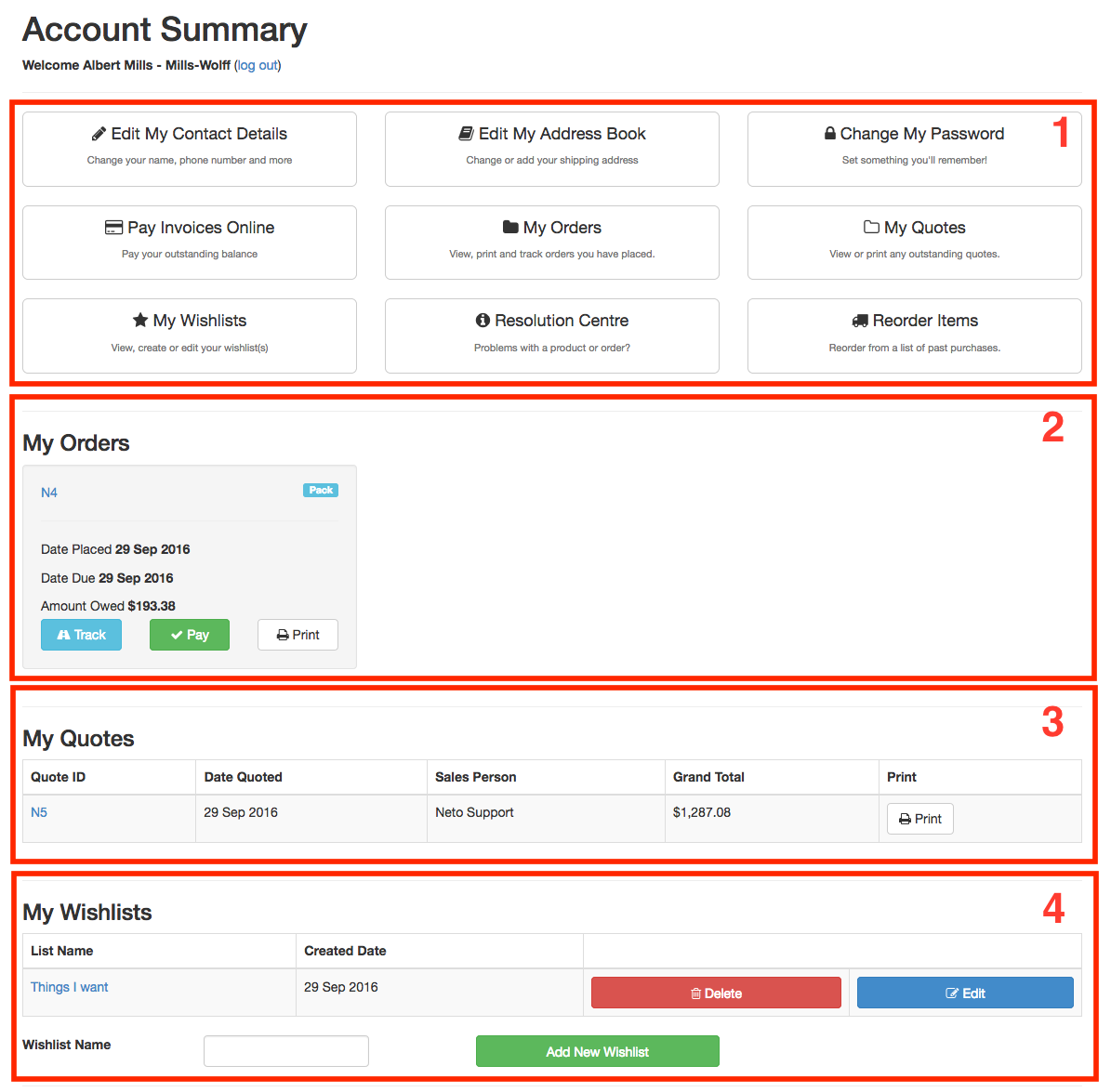 Account Summary
The Account Summary section is split into various account related actions the customer is able to perform:
Edit My Contact Details
Allows your customers to update their billing information, contact information, Preferred Payment Methods, Default Order instructions, Company Information & Drop Shipping Information.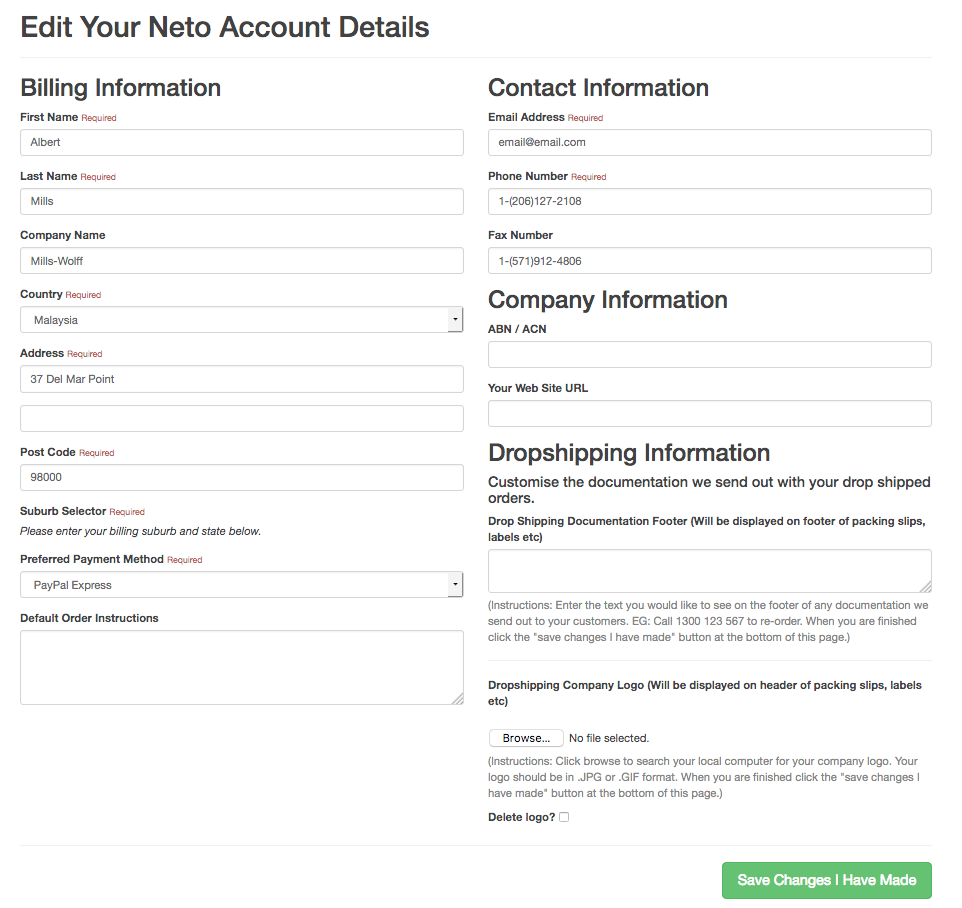 Edit My Address Book
Allows your customers to add/update Shipping Address details. They can add as many shipping addresses as they would like to their address book. Shipping Addresses added in this section will appear in the address book when creating a order through the control for that customer.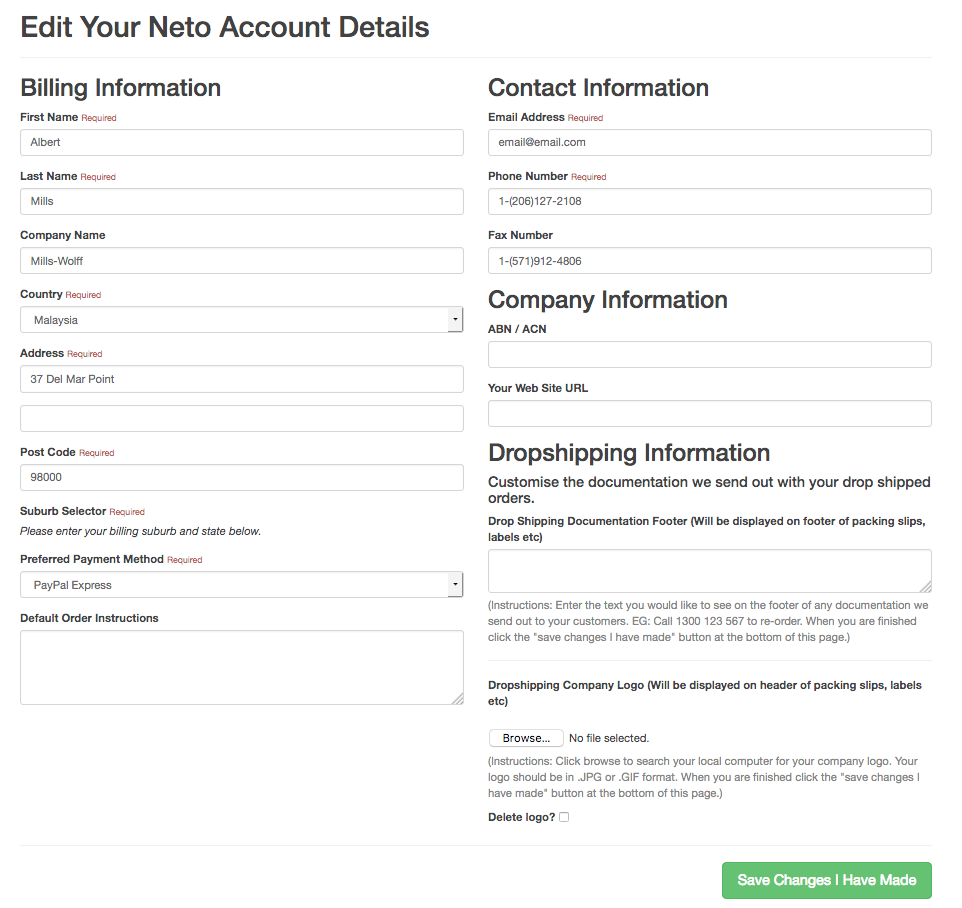 Change My Password
Allows your customers to update their passwords to their account.

Pay Invoices Online
Allows your customers to make a payment against any outstanding invoices they may have. If there are multiple outstanding invoices, they can choose what amount will be applied to each invoice, allowing them to pay multiple invoices in a single transaction.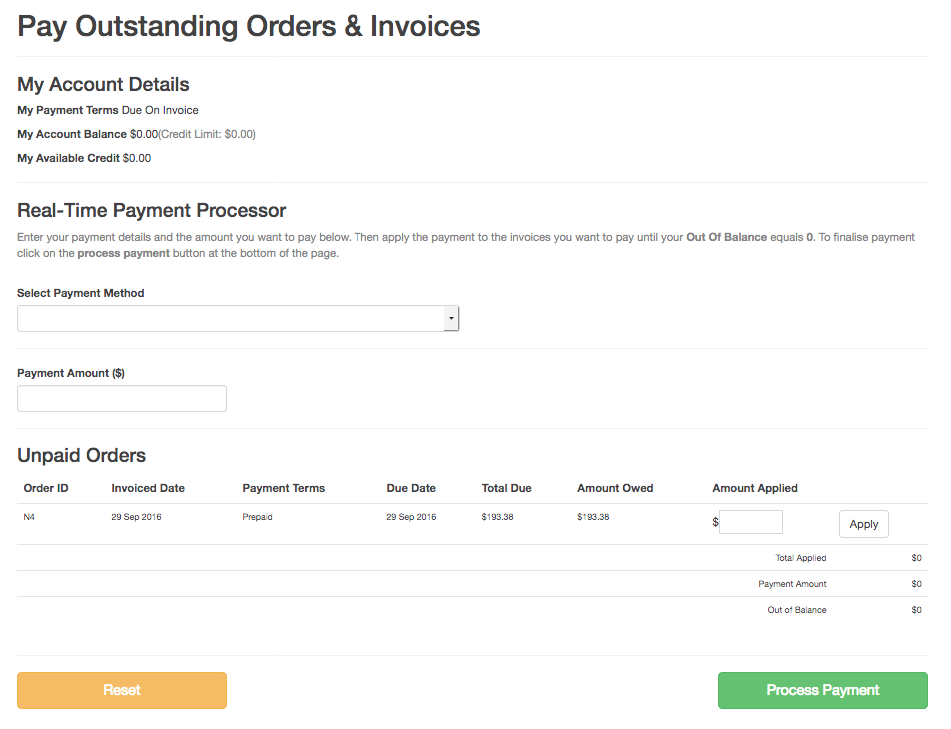 Resolution Centre:
Allows your customers to view existing disputes or create new disputes.

Customers can create new disputes.

Customers can only create disputes for orders that have been fully paid.

Customers will receive a copy of their dispute via email. They can review their dispute and also update relevant details by click on the reply to message link.

You can edit dispute emails to say anything you would like. To edit the templates from the Neto dashboard, select Setup & tools > All settings & tools > Email Templates > Dispute Emails.

Customers can also view existing disputes, send message updates or close the dispute altogether.
Reorder Items:
Customers can easily re-order items they have purchased in the past.
My Orders
Allows your customers to see a history of all orders purchased on your webstore. The thumbnails show:
Order Number
Date Placed
Date Due
Amount Owed
A Tracking button
A Pay Now button
A Print Button

Each order can be drilled into to display further information about it.
Clicking the Order Number will display a copy of the Invoice and the ability to pay anything outstanding:

Clicking the Track button will show the related shipping information for that order. If a tracking link has been set up for the chosen shipping method, the customer will be able to click the tracking link and be taken to the relevant shipping carriers tracking page. Click here for more information on setting up tracking urls for your shipping carriers.

Clicking the Pay button will allow the customer to pay any outstanding amounts on the invoice via there chosen payment method.

Clicking the Print button will print the invoice.
My Quotes
Allows your customers to see any quotes they have.

My Wishlists
The My Wishlists section allows your customers to see any active wishlists they have. They can:
Delete a wishlist
Edit a wishlist
Add a new wishlist

Clicking the Edit button will take the customer to the contents of that wishlist. From there they can navigate to the product and choose to remove it from their wishlist.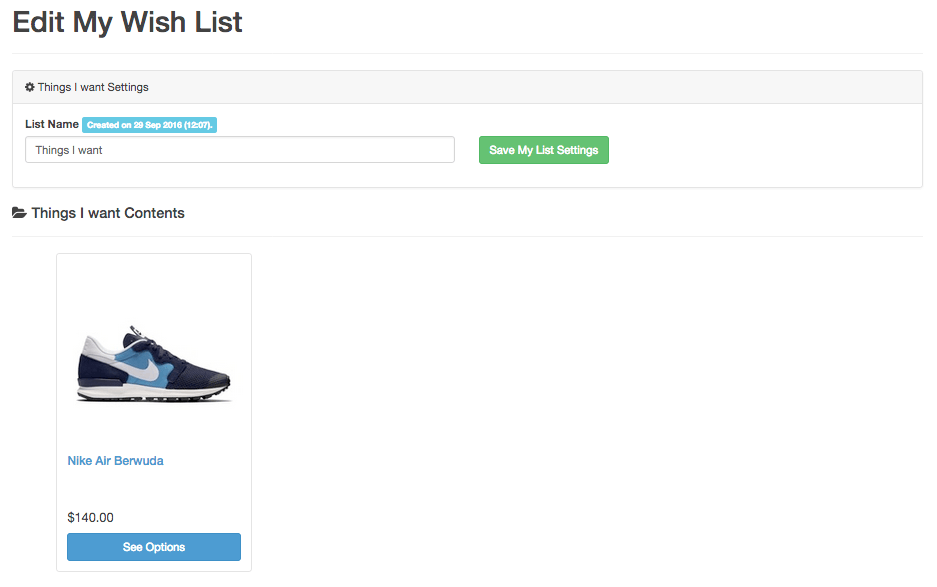 Last Modified: 18/07/2018
Neto Version: 6.4