You can change the colours and logo in your control panel. This is useful if you have more than one Neto site and need a quick visual que to know which site you are working on.
To change the control panel colours, go to > Logos & Branding.
To change the colour of the notifications at the bottom of the page, click in the field next to Control panel primary colour.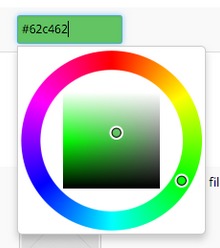 A colour selector will appear. Select the primary colour by clicking on the circle then click in the square to refine the colour.
To change the background colour of the control panel, click in the field next to Control panel background colour and select the colour from the selector.
To change the logo that appears at the bottom right of each control panel page, scroll down to the Control Panel Logo section and click on the Browse or Choose File button and select your logo frokm your computer. The logo will be resized to 200 x 70 pixels.

Once you have made the changes, click on the Save Changes button.
Last Modified: 24/10/2016
Neto Version: 5.87