How do I add or edit the menu's on my web shop?
You can add or edit menus on your web shop by visiting Content > Menus in your Control Panel.
Go to Webstore > Menus

Select the menu that you want to edit by clicking on the ID or reference name for the menu you want to edit.

To add a link to an existing menu, simply click the Add New Menu Item at the bottom of the menu list.

Click on to add settings for this menu option. A pop-up window will appear.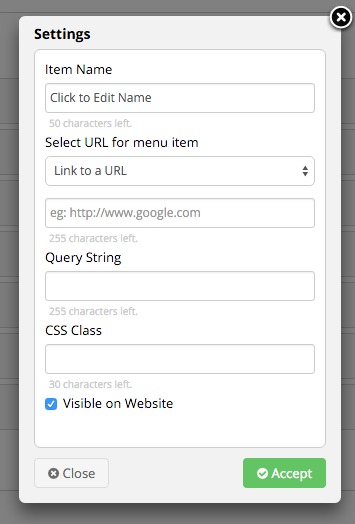 Enter the name of the new menu option under Item Name.

Under Select URL for menu item select:

Link to a URL - to enter a web address for an external website. Paste the web address in the field below.
Link to an existing product - link to product page. Enter the product's SKU in the field below.
Link to an existing stockist - links to a stockist or store location. Select store from the drop down list below.
Blog Post, Brand, Buying Guide, Form, Information Page or Product Category - links to a page with that content type. Select page from the drop down menu below.

The Query String is an advanced feature. Use it to add parameters to the menu web address.

The CSS Class is an advanced feature. This can be used by web designers to change the way the menu option looks on the web page.
You can hide a menu option by unchecking Visible on Website.
Click on Accept to save the option settings.
To change the order of the menu options, click and drag the menu option up or down. Let go of the mouse button when it's in the correct position. To create a sub-menu option, drag the option to the right so it is indented.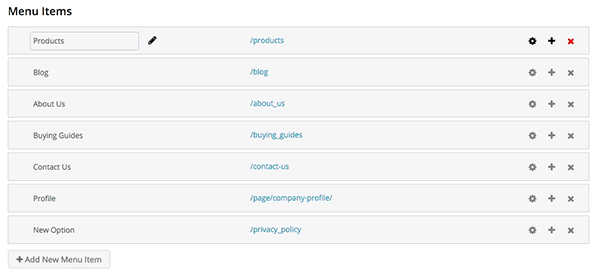 To add a sub-menu option, click on the  
To remove a menu option, click on the  .
Click on the Save button.
On most themes, category menus are automatically generated based on your category tree. Some themes may limit the amount of categories that display.
If you've updated your categories and the menu has still not updated, it could be a result of caching, and it should show up within an hour.
Related Articles & Videos