Please Note: This article will be taking you through how to set up third party shipping rates in the Shipping Services and Rates section of your control panel. If you are unsure of any of the fields on this page, please refer to this Field Definition Article.


Some carriers offer integrations that allow Neto to access rates files held outside of Neto (by the carrier). The size and weight of the order (based on the product dimensions held in Neto) along with the destination are sent via the internet to the carrier and a rate is returned that can then be presented to the customer. This is known as a 3rd party calculator and it uses live API calls to calculate rates in real time.
These are limited to carriers and brokers that support this method. With the exception of Australia Post's public rates (non-account rates), you must have setup accounts with the related service providers to use their calculators.
At time of writing, Neto offers this integration with:
Australia Post - public and account rates
Fastway - account required
TNT - account required
Startrack Express - account required
Temando - account required
Smartsend - account required
Want It Now - account required
e-Go - account required
Add services and rates

Go to:
Shipping > shipping services & rates



Click Add new toward the top right hand side of the screen.

You should be seeing the Create Shipping Service Rate Table #New screen now.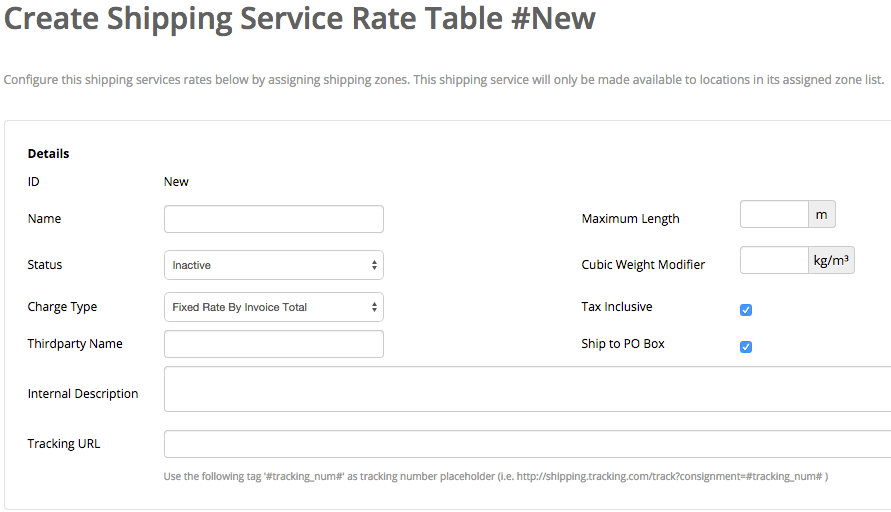 Please give your new Shipping Service Rate Table a Name.

For now, leave the Status as Inactive, which it should be by default.

As you are setting this up using Third Party shipping rates, expand the Charge Type field and select Third Party Shipping Rate.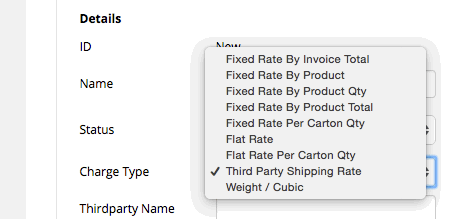 Specify the Thirdparty Name.

Fill in any remaining fields in the Details section. As previously noted, Field Definition Article will help you with any fields you are unsure of on this page.

At this point, head to the bottom of the form and click Save.

After it refreshes you will see that there are more sections to the page. Scroll down to 3rd Party Calculators.





Calculator: from the drop down menu, select the carrier calculator.

Service Name: from the drop down menu, select the service. (Calculator option must be selected for this drop down to activate)
Account ID: enter your account ID number held with the carrier. If using Australia Post public rates, leave this field empty.

Pickup Post Code: enter the post code of your warehouse

Pickup Suburb: enter the suburb of your warehouse

Pickup State: enter the state of your warehouse
Add the username, password or API key provided to you by your carrier by clicking the "cog" icon next to Calculator.



Australia Post: API Key - prepopulated

Fastway: API Key (Generate your Fastway API key by filling in the form here.)

Star Track: API Key, username, password

SmartSend: username, password

Termando: username, password

TNT: username, password



Back to the Service Rates Table setup page.

Add zones: from the drop down menu select the zones you would like to ship to using this service. Third party calculators typically have their zones already pre-configured so we recommend selecting "Australia" and allowing the calculator to determine the available zones.

If you would like exclude specific zones for this service, you can specify only the zones you would like to ship to here. For more information on adding zones to Neto, click here. If you do not specify zones, rates will not be returned.

You can add pre-set zones by selecting the carrier from the drop down menu and clicking "add zones".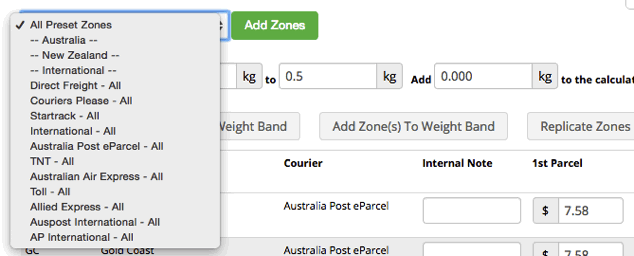 When the zones have loaded, you can manually enter the rates into the field of the associated zone.


You can also remove any zones you don't want to deliver to by clicking the red box with the white cross on the right hand side. You need to save after removing this for the change to apply.






The other option is to upload your zones and rates in .csv format.

Download a template by going to the Shipping tab dropdown > Shipping Zones and clicking the Green button that is called "Import Shipping Zones". On this page in the top right you can download the Shipping Zone .CSV Template File.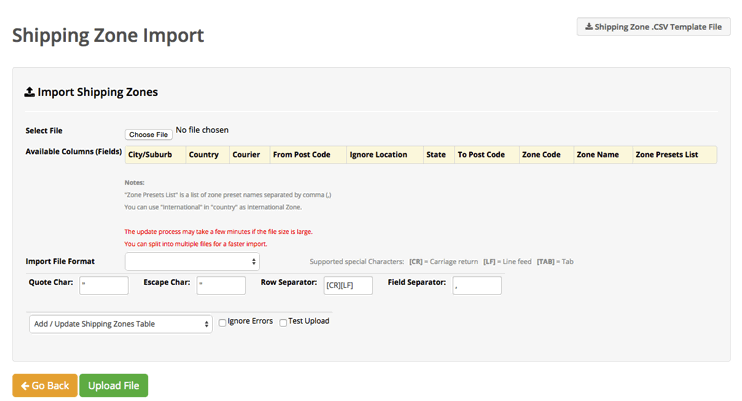 Populate the fields with the information provided to you by the carrier - click here for instructions.
Zone Code
Courier
Minimum Charge - basic charge
1st Parcel - refers to either first kilo or total charge for first package in the weight band
Per Subsequent Parcel - refers to second package in the weight band
Per Kg - refers to per subsequent kilogram charge
Delivery Time - numeric field only, refers to days to deliver
Minimum - start of weight band in kilograms
Maximum - end of weight band in kilograms
Once you have filled this out, go back to your Shipping Services and Rates page that you have been setting up. Navigate to the bottom and click 'Import Zones and Rates .CSV File.






If you need to make changes, you can delete the zones and rates by clicking the "x" next to the line (or band) and reimport an amended file. You can also manually adjust the values in the relevant field.

Save your changes.
Save the service setup. You will need to create a new service in Neto for each of the carriers and each of the services that you wish to offer. For example, one for standard eParcel and one for Express eParcel.

Create carrier method
Create methods as per usual.
Click here
for more information on how to populate the method fields.

Configure the label and carrier integration - contact Neto
If you are using an integrated carrier, we will need to assist you to configure your integrated labels and manifests. Please complete the
shipping carrier setup form
for each of the carriers you wish to use. There is no charge for this setup service.
You will also need to have your shipping methods setup for each carrier before the integration can be completed, as this is what the carrier integration is linked to.