To change the email address that all system generated emails will be sent from, go to > Business Details and scroll down to the System Email Addresses section.

System e-mail address - The "From" email address for all system generated emails.
BCC email address - System generated emails will be blind copied to this address. You can enter more than one email address - just separate them with commas.
Turn on dispute email address - Dispute email address is the default address that Dispute messages go to. Check this option to turn the dispute email feature on.
E-mail for disputes to be sent - Customer dispute emails will be sent to this address.
To change the email address on only specific templates, go to Email Templates under the </> icon.
Here you will find a list of folders that contain all the system generated emails. You can edit each email by drilling into the related folder and editing the "from" field or "to" field. Enter the email address you want emails to be sent from or to here. You can add additional email addresses by comma separating them. These fields work much the same way as the from and to fields in your everyday email client.
Click on the section and then the template.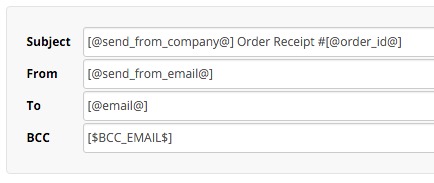 You can change the From, To and BCC fields and save the changes.
Last Modified: 24/10/2016
Neto Version: 5.96