Shipping zones are used to group a number of post codes together into a region. You can then assign shipping rates from a carrier to that region.
To import shipping zones, go to Shipping > Shipping Zones and click on the Import Shipping Zones button.

Download a shipping zone template by clicking the button on the right hand side.

Populate the fields with the data provided to you by the carrier:
Courier*
Zone Name*
Zone Code*
From Post Code*
To Post Code*
Country*
State
City/Suburb
Ignore Location
*required field
Please note:
With some zones the "to" and "from" post code will be the same.
With some carriers the zone name and zone code will be the same.
When you have completed the zone file select the file, enable the test mode by checking Test Upload and click Upload File or Choose File.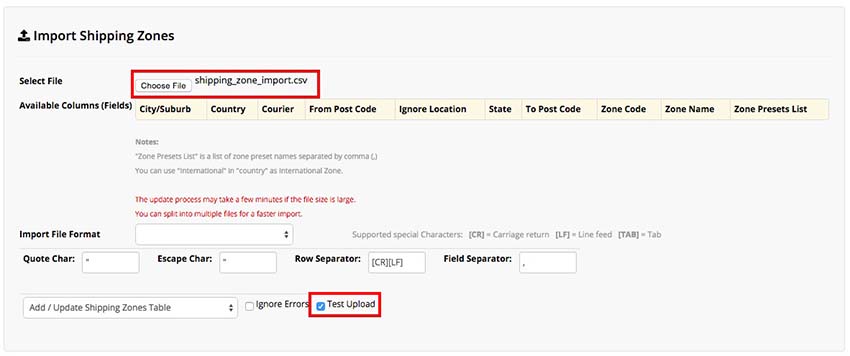 If there are errors, amend the file and test the upload again.
If there are no errors you can enable Use Uploaded File, disable the Test Upload and click on Update File.

If your upload was successful you will see a list of the newly imported zones under the Upload File button. These are now available to be linked to your carrier rates and services.

Last Modified: 29/10/2015
Neto Version: 5.85