Recurring Payments is an Add-On. If you don't see them when viewing a order you can install the Add-on.
A recurring billing schedule can be applied to an order to automatically debit a customers credit or debit cards based on a predefined set of rules. In order to use this system you must first have a triggered payment facility with a supported third party gateway such as Securepay or eWay.
Open the order you want to setup recurring billing for.
Scroll down to the bottom of the order and click on the recurring billing tab.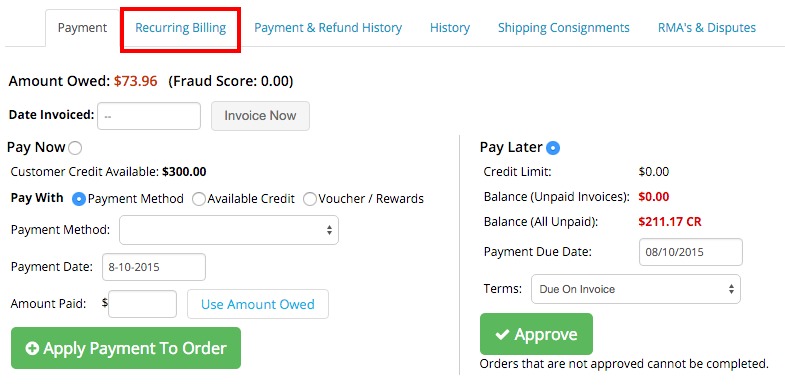 If you have payment plans setup in your system you can select a payment plan to auto-populate the recurring billing schedule. If you do not have a payment plan setup in your system, start by selecting the payment due type.
Define the schedule for the recurring payment. This includes the day, week or month each payment is due as well as the number of payments. The total amount owed on the invoice will be divided into the total number of payments to determine the amount that will be charged each time.
Once you have defined your payment schedule you can select the payment method that will be used for each payment.
Once you have entered the payment details you have two options:

Process the first payment right away and save the recurring billing schedule. Payment will be taken immediately and the next payment due will be as per your recurring billing schedule. Click on Receipt Payment & Save.
Save the recurring billing schedule. In this case the payment will only be taken as per the recurring billing schedule you have setup. ​Click on the Save Recurring Billing Schedule.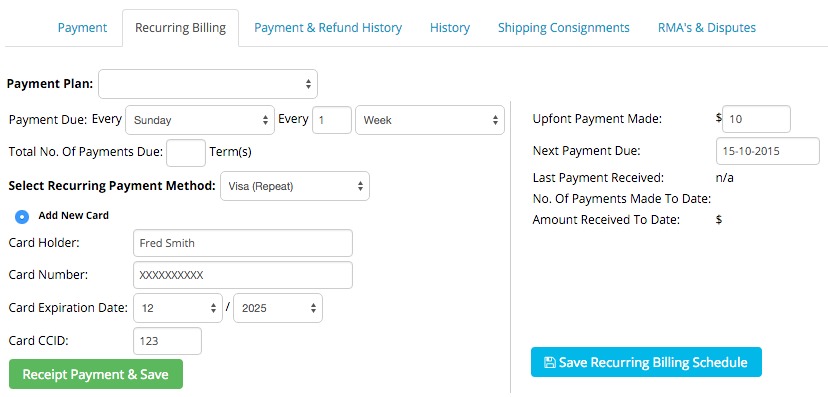 Last Modified: 29/10/2015
Neto Version: 5.87