Table of Contents
Step 1. Create a free Facebook developer account
Go to the Facebook Developers Page and in the top right hand corner click 'Log In'.

Use your Facebook credentials to login (or create a new account if you don't currently have an account) and accept the policies to register.
Note: Creating a Facebook application requires verifying a real person is associated with the Facebook account. You must associate a mobile phone number or a credit card with your Facebook account before receiving Facebook developer privileges.
Step 2. Add a new website Facebook app
Click on My Apps in the top right hand corner and click Add a new app.

A popup box will appear. Select the option Website to get started.





Click Create a new app.





Enter a name for your app and click Create New Facebook App ID.





A popup box will appear. Choose a category for your app and click Create App ID.





Complete the security check.




Step 3. Tell Facebook about your website
In the menu on the left hand side, click 'Settings' and then click 'basic'.

At the bottom of the page click 'Add platform' and then select 'website'.

Type in your website address, and then click 'Save changes'.

Click the 'Quick Start' button which will appear above the Web URL you just added.

You'll end up on the 'Setup the Facebook SDK for JavaScript' page. Scroll down to the "Tell us about your website" section at the bottom. Scroll down to the "Tell us about your website" section complete the following fields:

Site URL: http://www.yourstorename.com.au





Click Next to continue.
Step 4. Configure Your App
Scroll down to the Next steps section and click on the Skip to Developer Dashboard link or click My Apps > Click on the name of your app to enter the app dashboard.





Copy the APP ID as we will need this for the next step.
Step 5. Copy APP ID and install Facebook addon.
Locate the App ID on the App Dashboard and copy this for the next step.





From your Neto dashboard, navigate to Addons, locate and install the Facebook app.

If you cannot find the addon, on the left hand side menu under 'Ways to Sell', click All add-ons and scroll down to the Marketing section.

A prompt will appear asking if you wish to edit styles now, select 'No'.
Step 6. Setup Facebook in Neto
Scroll down to Step 6. Add your App ID to your Neto control panel and now paste your APP ID you copied in the previous step and click the Save button located directly underneath.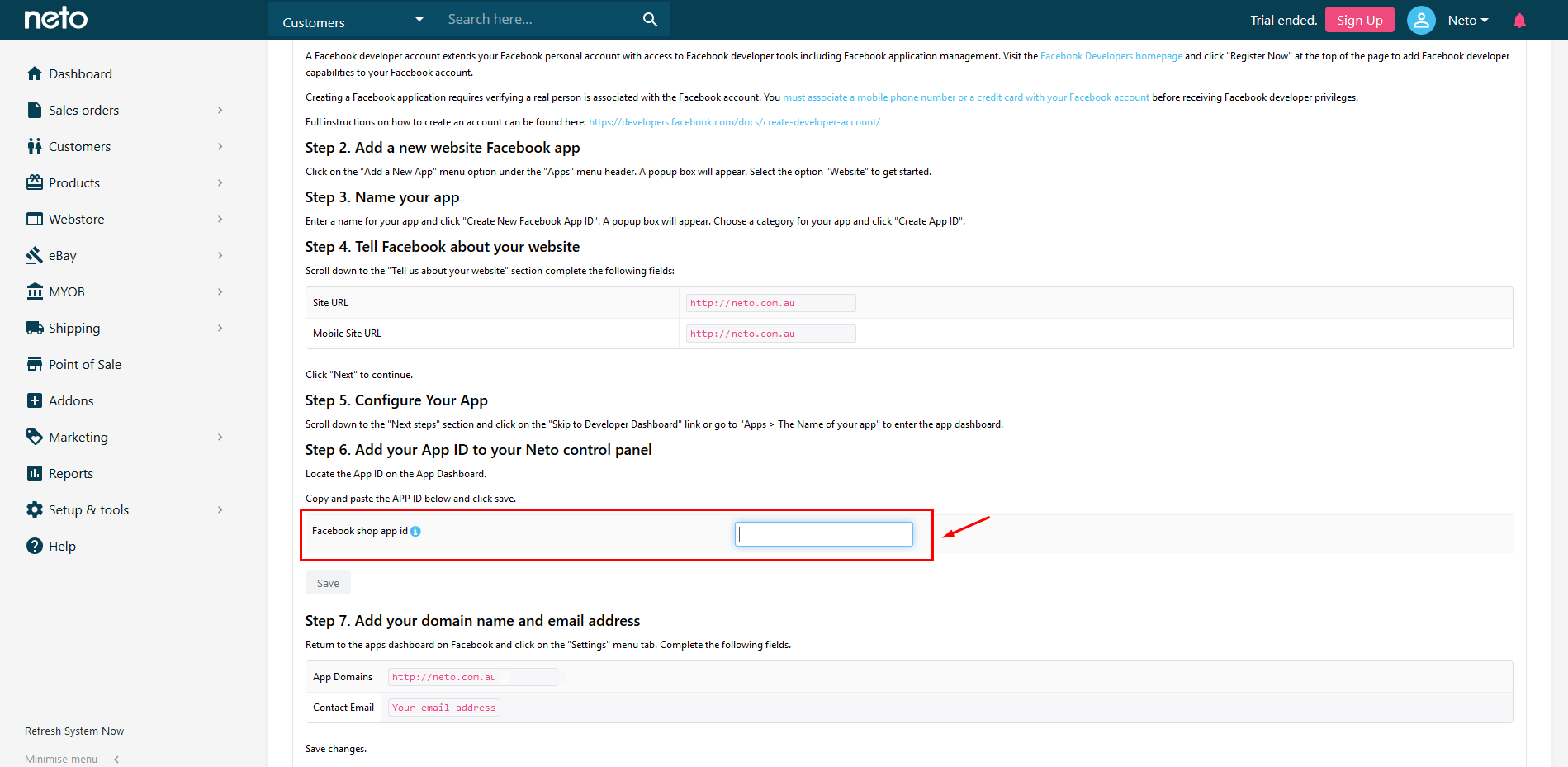 Step 7. Add your domain name and email to Developer Page
Return to your app's dashboard on Facebook and click on the Settings menu tab on the left hand navigation menu. Complete the following fields:
| Field Name | Field Value |
| --- | --- |
| App Domains | Enter your website URL |
| Contact Email | Enter your contact email address |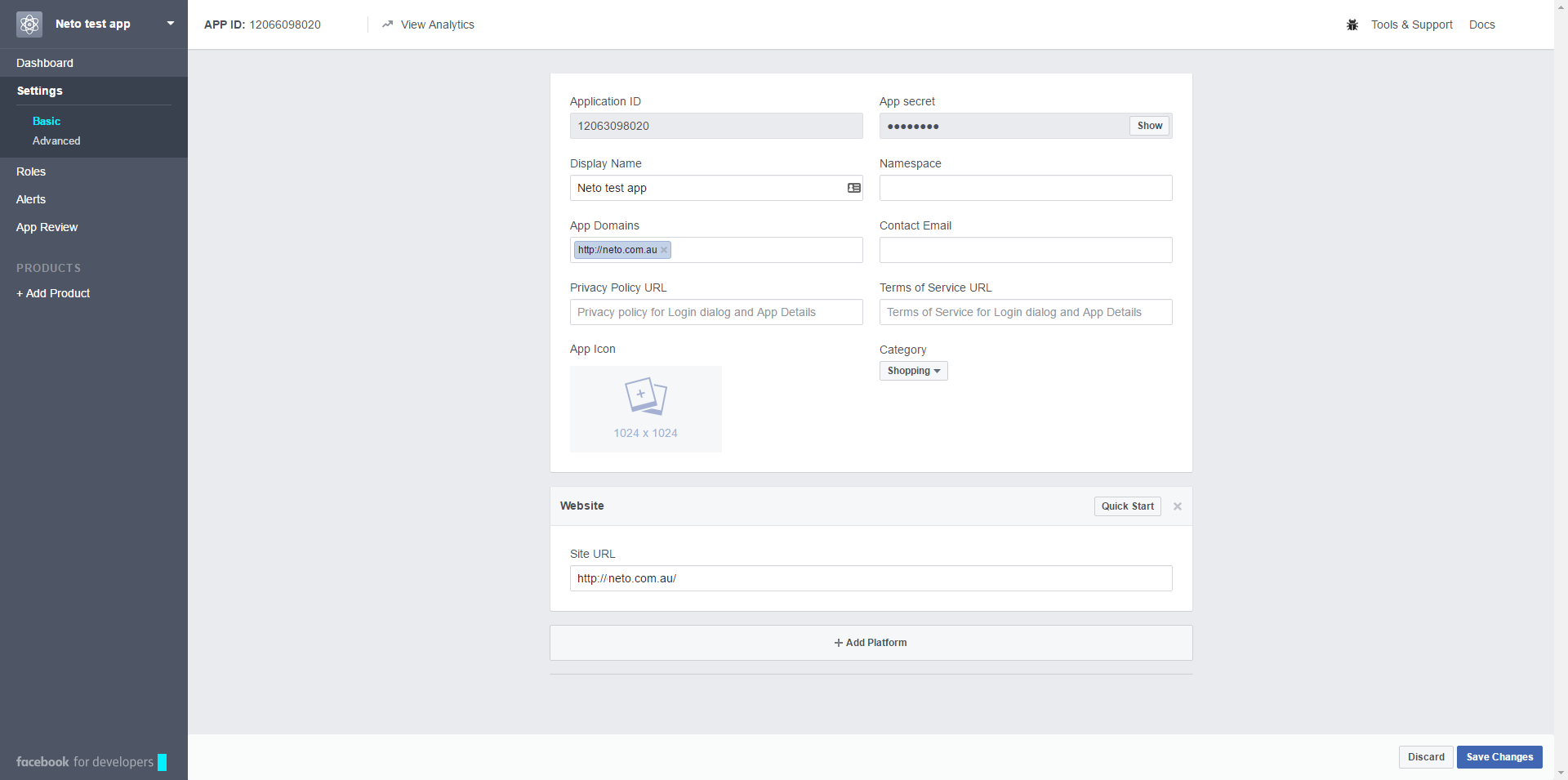 Once complete, save changes.
Step 8. Create a Page Tab app
On the same page, click the + Add Platform button at the bottom of the page.

Select the "Page Tab" option.





Now complete the following fields:

Page Tab Name
Page Tab URL
Secure Page Tab URL
Page Tab Image (Image that is displayed to end users. Must be 111 x 74 pixels).




This information to complete these steps are found back in your Neto Facebook setup page. Scroll down to Step 8 to obtain the field values for this section. Note: Page Tab Edit URL in Facebook is called Page Tab URL in Neto.





Once completed, click 'Save Changes'.
Step 9. Make your app live to public
On the Facebook app dashboard, Click on App Review from the left hand navigation menu.

Switch the app live and available to the public and confirm when the pop up box appears.




Step 10. Add app to your company Facebook page
Go back to your Neto Facebook setup page and scroll down to Step 10 to complete this section.

Click Add app to Facebook Page button.
Important Note: When clicking 'Add App to Facebook Page' some users may experience a message 'An error occurred. Please try again later'. Simply refresh the Neto page and press the button again.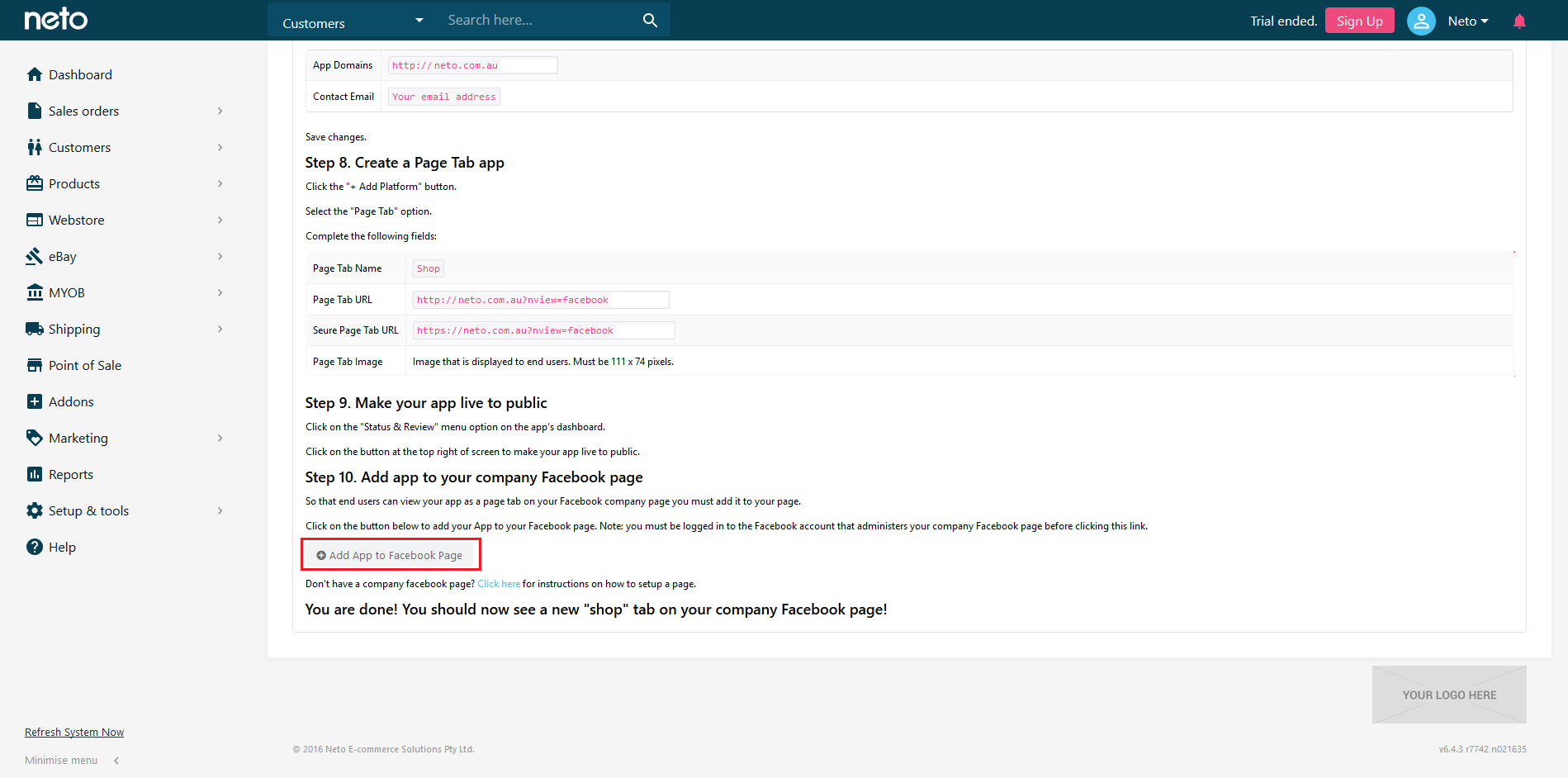 Last Modified: 13/12/2016
Neto Version: 6.5