Yes, you can have multiple warehouses on your Neto website.
Convered in this article:
View your warehouses
Go to Products > Warehouses / Dropshippers > View All Warehouses / Dropshippers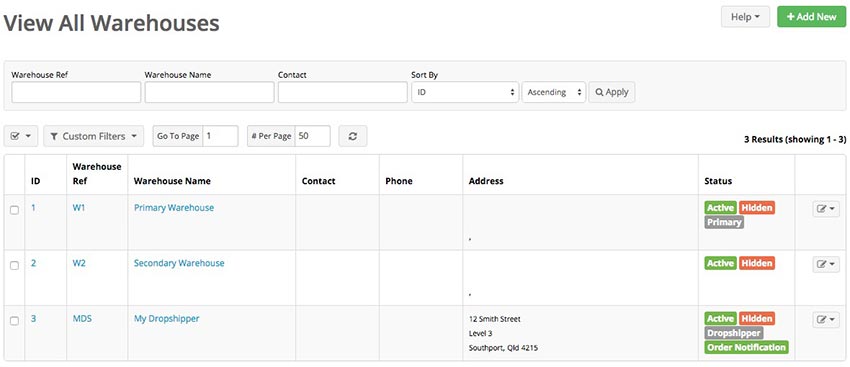 Add a warehouse
Go to Products > Warehouses / Dropshippers > Add New Warehouse / Dropshipper
Fill in the necessary warehouse details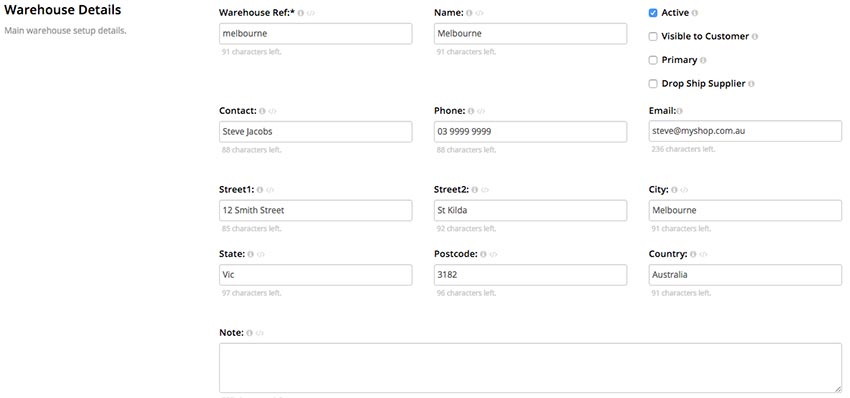 If required, assign shipping zones to the warehouse. By assigning shipping zones to a warehouse the system can automatically assign order lines and movement jobs based on the shipping address of an order or asset movement. This is ideal for businesses who have multiple warehouses filling orders or asset movements for the same item.

Can a SKU be allocated to more than one location / warehouse?
A SKU can be assigned to multiple warehouses and have different stock quantities in each warehouse. To enter the stock into multiple warehouses, go to Products > View All Products and select a product. Then scroll down to the Stock Control section.
For example you can have one SKU that has stock in 3 warehouses:

How is the available quantity calculated?
If you have multiple warehouses setup, the combined stock qty in each warehouse, less any unpicked or committed orders, will become your available quantity. This is the quantity available for customers to order on your web shop.
For example, if you have 19 in warehouse stock and you have 5 on new orders then your total available stock will be 14 (19-5).
Store Quantity (qty available) = Combined Physical Stock In Warehouses - Unpicked Orders (includes backorders)
A product on order is committed when it is in any of the following status:
New
Pick
New Backorder
Backorder Approved
You can uncommit products that are on orders by moving the related orders to the Uncommitted status. This is ideal when a customer has placed an order that they do not want shipped until a date in the future. This will allow you to free up the stock for other orders.
How to adjust stock quantities
There are 4 ways to adjust stock numbers for a product:
Adjust quantitry on products management page. Go to Products > View All Products and select a product. Scroll down to the Warehouse & Despatch section.

Adjust quantity from stock adjustment page. Go to Products > Stock Management > Stock Adjustment
Adjust qty from stock take page. Go to Products > Stock Management > Stock Take

Import new stock quantity using import /export wizard. Go to Import / Export > Import Wizard. For more information in using the Import Wizard, check out How do I import products, customers or orders using the import wizard?
Import the stock quantity using Neto API. For more information check out API - Getting Started
In all cases the number you enter less the qty committed on incomplete orders will become your new stock qty.
Note: if you are using a Neto compatible accounting or inventory management system then your stock quantity will come up from that application and will be adjusted in Neto periodically.
Can I have multiple warehouse stock quantities visible on the website front end?
Yes, however, this requires custom programming. Please contact us for a quote.
Last Modified: 16/01/2017
Neto Version: 5.83