Product categories are used to organise your products into easy to navigate pages on your web shop. For example, if you sell clothing your categories may include Shorts, T-shirts and Dresses. You can assign products to multiple categories. An easy to navigate category tree can help your customers find exactly what they are looking for quickly.
Covered in this article:
To view the existing Product Categories for your web shop
Go to Products > Product Categories

A list of the product categories that have already been entered into your site will display:

Click on the category Name or ID / Ref to display the product category details.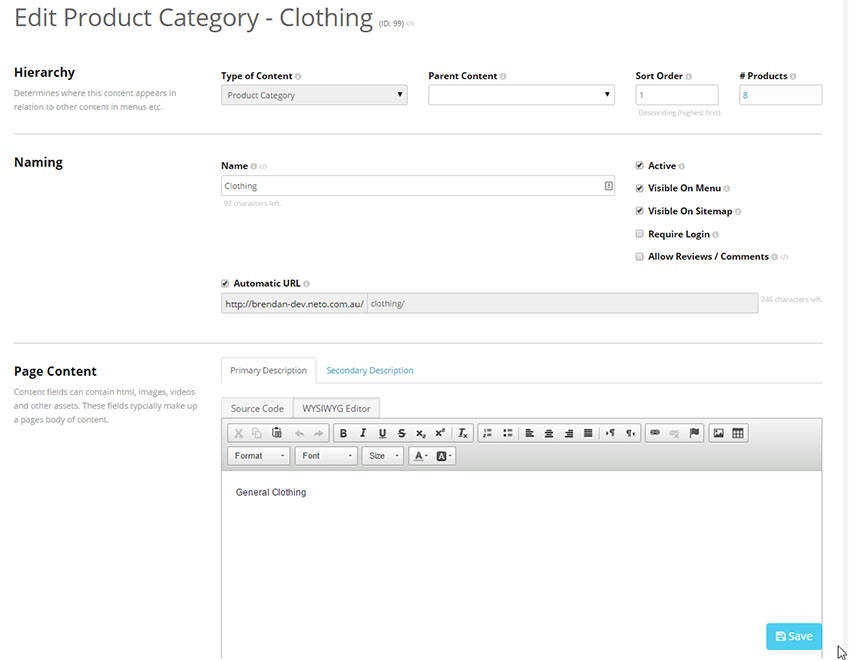 To add a new Product Category
Go to Products > Product Categories and click on the Add New button.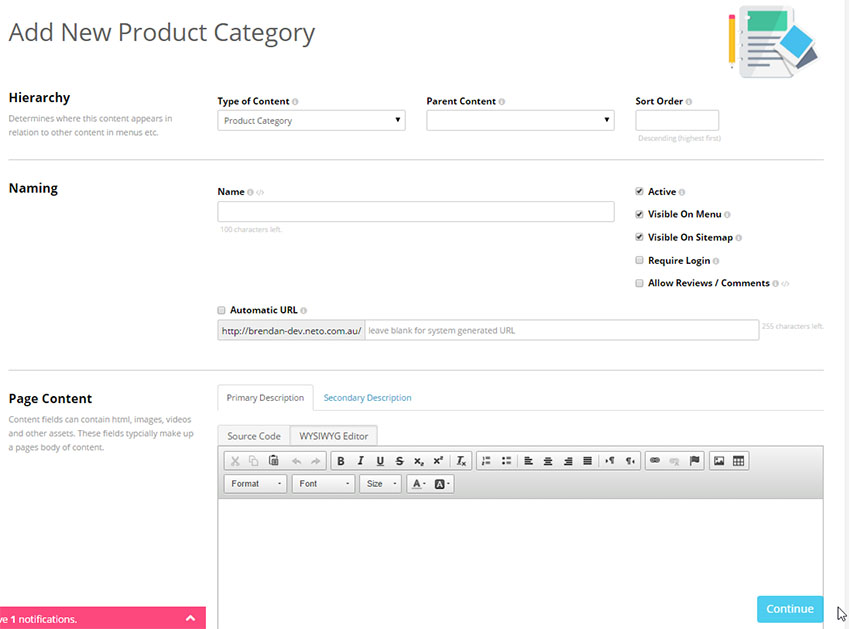 Ensure the Type of Content is set to Product Category.
Select a Parent Category for the category you are adding. The parent category will determine where it will appear in the category tree. If you want a top level category, leave Parent Category blank. Else, select the product category the is new category will appear under.
Enter a Name for the category.
Click Continue at the bottom right to save the new category and proceed to setting up additional details, such as:

Page Content – This will appear at the top of the product category page.
Images – See below for instructions on adding category images.
Related Content – You can link content pages, products or other product categories to appear in the side bar when visitors view this product category.
Visible to User Groups – Used to restrict visibility to certain website users based on the User Group set up in the customer card.
Template & Design – Used to apply custom design templates to each page.
SEO – You can customise the SEO Meta Data for each product category to optimise how search engines display these pages in their results. See the Search Engine Optimisation (SEO) basics video for more information.
You can also import your product categories using a .CSV spreadsheet. See How do I import product categories from a .CSV file? article for how to do this.
Adding Product Category Images
If you have a page on your website that displays your product categories (eg. www.mydomainname.com.au/products), then you may wish to add an image to display for each category thumbnail.
To do this, go to the Product Category page in the control panel and scroll down to Images section.
Click on Choose File or Browse. A popup window will open for you to browse your computer to find an appropriate image file.Once you have located the image, press Open. If the image is not in the JPEG format, select JPEG (*.jpg) next to Convert to.
Save changes.
Last Modified: 18/11/2016
Neto Version: 5.93