Neto has customisable filters on most of the searchable pages in the control panel that allows you to quickly and easily filter based on your search parameters.
For example, custom order filters can assist with a more controlled, streamlined and efficient order picking and packing process and are typically set up by operations or warehouse managers.
The steps to creating customised filters are the same for all pages. Follow the steps in the example below.
How do I create a custom order filter?
In the control panel, go to Orders > View All Orders.

Open the filter options by clicking on the down arrow on the right of the filter box.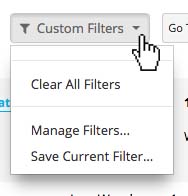 3. Once you have completed your filter setup, you can save your filter as a custom filter. To do this click on the Custom Filters button above the order list. The select Save Current Filter...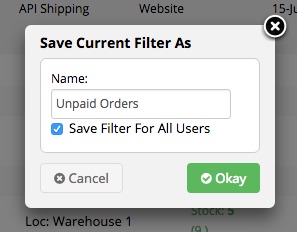 Enter a name for your filter. If you would like to share this filter with other staff members, check Save Filter For All Users. Click Okay to save the filter.

Once your filter has been saved it will appear as a new filter in three locations:

Order menu (under the custom filters header) - Select Orders > Customer Filters
Order list page (under custom filters button)
Dashboard (custom filters widget)
Using relative time in order filters
One of the most popular fields to filter orders by is date placed. So that date placed can be used in custom filters Neto supports relative times / dates in its date filter fields. For example you can filter an order list to show all orders placed more than 6 hours ago. Use the relative time / date fields in a date filter to achieve this.
Example Use Case:
So that you can fulfill a large number of orders efficiently in a batch pick fashion you may want to frequently return a list of all orders that only have products in a single pick zone, sorted by date placed.
In this case you would set up a custom filter with the following parameters:
Multi Pick Zones = Single Pick Zone
Sort By = date placed, ascending
Users can then use this custom filter to return the orders they need to fulfill at the click of a button.
If for example a user wanted to further refine your filter to only display orders that were placed more than 6 hours ago they could add the date placed filter Date Placed = To : 6 hours ago

Last Modified: 18/11/2016
Neto Version: 5.85