If you are moving to Neto from another website platform or shopping cart solution it is important to ensure that 301 redirects are setup in Neto so that your search engine rankings are not affected by the move.
What Is A 301 Redirect?
301 redirects are setup to ensure that traffic to your old website URL's are directed to your equivalent new website URL on Neto.
Example
Your old website has an about us page at: http://www.mydomain.com/content/pages/about_us.php
On Neto this page may be located at: http://www.mydomain.com/view/about_us
You therefore need to tell search engine and browsers that this page URL has changed permanently.
Before you begin
If you currently have a page on your website that is active, make sure the page is set to inactive, not visible on menu and sitemap otherwise the redirection will fail.
Creating or importing 301 Redirects
The 301 redirect import tool allows you to import all your re-directs from a .CSV file.
From the Neto dashboard, navigate to Setup & Tools > All settings & tools.





Under the Web Store heading, click 301 Redirects.


Click Add New button and either click 301 Redirect or Import 301 Redirect File



Creating a single 301 Redirect
Enter the URL of the old link. Eg. if it was www.yourdomain.com.au/content/pages/about_us.php just enter: content/pages/about_us.php


Query String: If you had '?' after the above URL, add it here.


Destination: Add the content Type and Category


Click Save.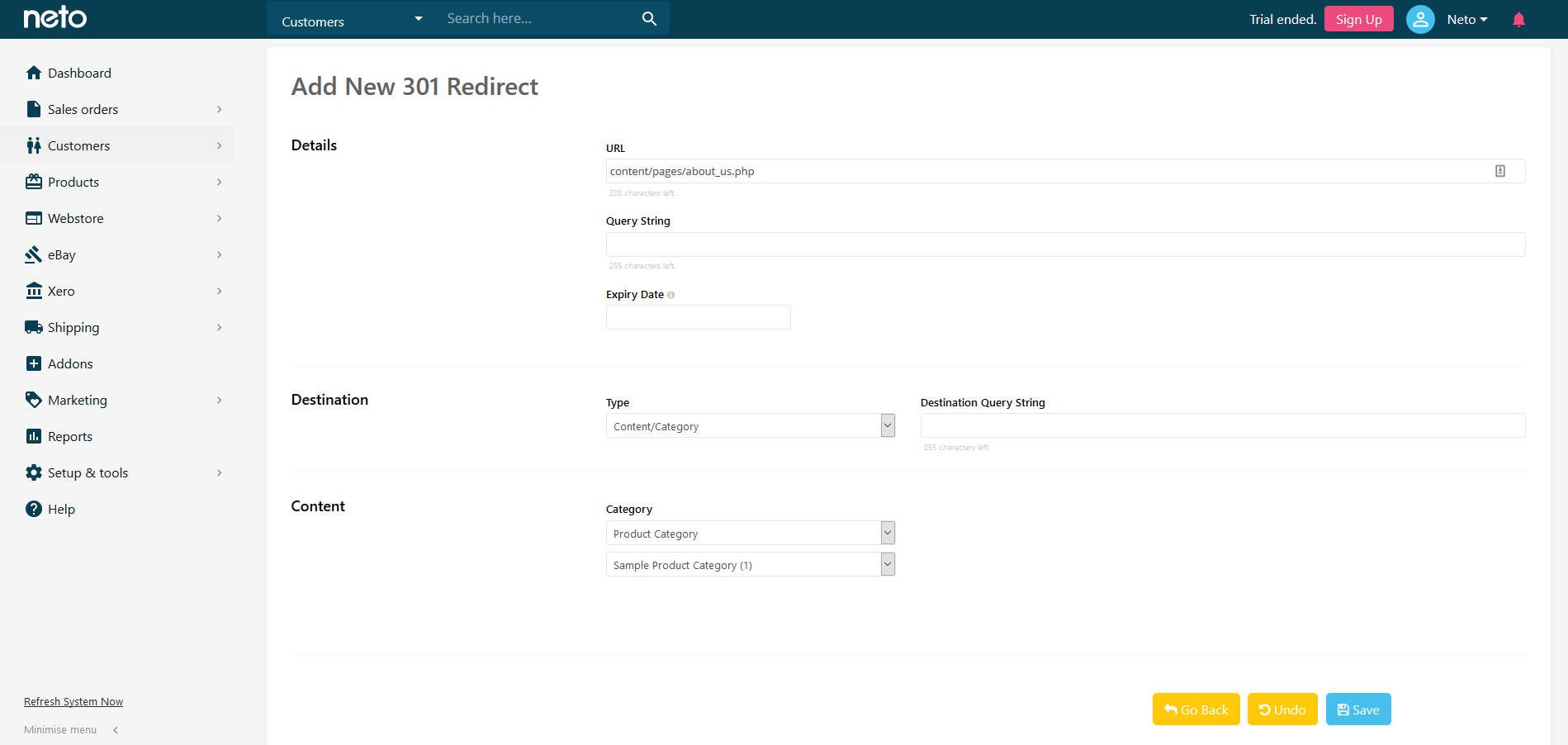 Importing a 301 Redirect File
To download the template file, click on 301 Redirect Excel Template File.





Open the Excel template file and fill it in as required. Instructions and examples are included in the template file. Once complete save the file as a .CSV file. Delete the instructions from the template before saving it.

NOTE: The ID for redirection is found on that page type it is related to. For example, if you were redirecting a product category, the ID is the category ID found on the category page.




Break the 301 import files down based on type. You should have a file that that is only for products, a new file for product categories, a new file for information pages, blogs, article, buying guides, etc. You will have to import multiple files.




Browse and upload the .CSV file from the location you have saved it to on your local computer.




You can test your upload by ticking the Test Upload checkbox during the upload process. If you are satisfied with your upload results tick use uploaded file to process the file.




One you have successfully upload your 301 redirect file your 301 redirect listing page should look something like this: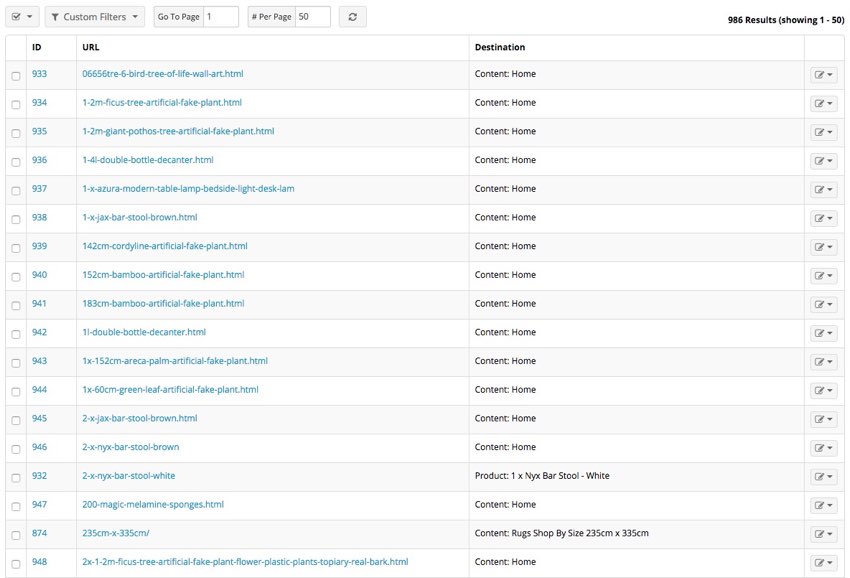 Note: the Old URL does not contain the domain name as part of the URL string, only the data after the domain. (eg: about_us.html)
Last Modified: 20/02/2017
Neto Version: 6.4