This article is for Neto version 5.91 or later. Check the version at the bottom left of any control panel page.
To quickly import customer from the customer list page, go to Customers > View All Customers in the control panel and click on the Import button (top right). A pop-up window will appear: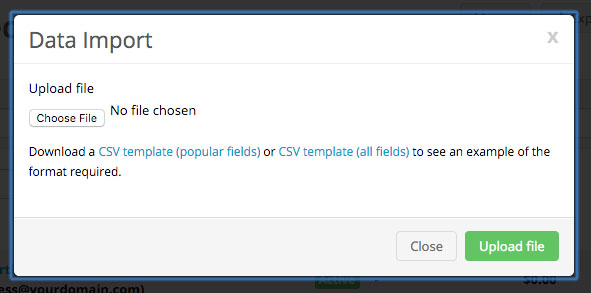 You can download templates that you can use to add customer details. Download either the CSV template (popular fields) or CSV template (all fields) template.
Open the file in a spreadsheet program like Excel or Google Sheets.
Here is a list of the fields in the popular fields template:
Username - This is a unique identifier for the customer. It is required and can be up to 25 characters (15 characters if your use MYOB).
Password - plain text password (not encrypted).
Email Address
Newsletter Subscriber - Enter Yes if they are a subscriber to your newsletter, otherwise No.
Bill Phone
Bill Fax
Bill First Name - Customer's first name.
Bill Last Name - Customer's last name.
Bill Company - Company name.
Bill Street Address Line 1 - First line of the billing address.
Bill Street Address Line 2 - Second line of the billing address.
Bill City
Bill State
Bill Post Code
Bill Country - Use the two letter code for the country. You can find a list of the country codes on the iso.org website.
Active - Enter Yes if this is a active customer, otherwise enter No.
User Group - Enter the ID number of the Customer User Group. To find the ID number, go to Admin > Customisable Fields > Customers > User Group. If you don't have that option in the menu, you are not using User Groups. Then enter 1 in the column.
Once you have entered all the customer details you want to import, save the file in the CSV (Comma Separated Values) format.
Click on the Browse or Choose File button and select the CSV file you just created. Then click on the Upload File button.
The import file will be uploaded and some checks on the details in the file. If there are some issues, they will be displayed, otherwise, a list of what will be imported will display. If you are happy with the details displayed, click on the Start Import button. You can also click on the Back button to re-upload the file.
The customer details will be imported into your site.