This article is for Neto version 5.91 or later. Check the version at the bottom left of any control panel page.
Australia Post has announced a new delivery option for parcels sent using eParcel. Customers can now opt for their Signature on Delivery parcels be left at their delivery address even if they are not home.
The Safe Drop service only applies to domestic parcels dispatched through our eParcel where you have asked Australia Post to collect a signature on your behalf.
Note that parcels with Transit Cover, Extra Cover or Identity On Delivery features are excluded from the receiver requested Safe Drop service. The service will never be offered where you have advised us when creating your parcel label that you do not want the receiver to be able to over-ride the signature service.
How Safe Drop works
Your customers will see a link in their email tracking notifications or in their personalised MyPost Track page inviting them to Safe Drop their parcel (note that this will only happen where you provide their email address when you manifest the parcel).
Your customers are directed to our MyPost portal and request that we leave the parcel in a safe place at their nominated delivery address. They will accept the terms & conditions for the service and choose a predetermined, suitable Safe Drop location from a drop-down list.
If there is no one at the nominated delivery address to sign for the parcel, our delivery person will follow the instructions to leave the parcel in the Safe Drop location unless, in their judgment, it is exposed to passers-by or the weather (in which case the parcel will still be carded to the Post Office)
How to enable or disable Safe Drop for your customers
You can choose if you allow customers to use the Safe Drop service, For example, if you send high value products, you may not want parcels to be left without and signature. However, if you want your customers to get their parcels with little fuss, you can enable the option.
To change the Safe Drop settings:
Go to Shipping > Label & Carrier Configuration and select your eParcel carrier from the list.
Click on the Manifest & Label Settings link of the left.
Set Send Aus Post tracking advice to customer via email to Yes to send the customer's email address in the manifest file.
If you want you customers to use Safe Drop, set Allow your customers to request "Safe Drop" to Yes. Otherwise, set it to No.
Save the changes.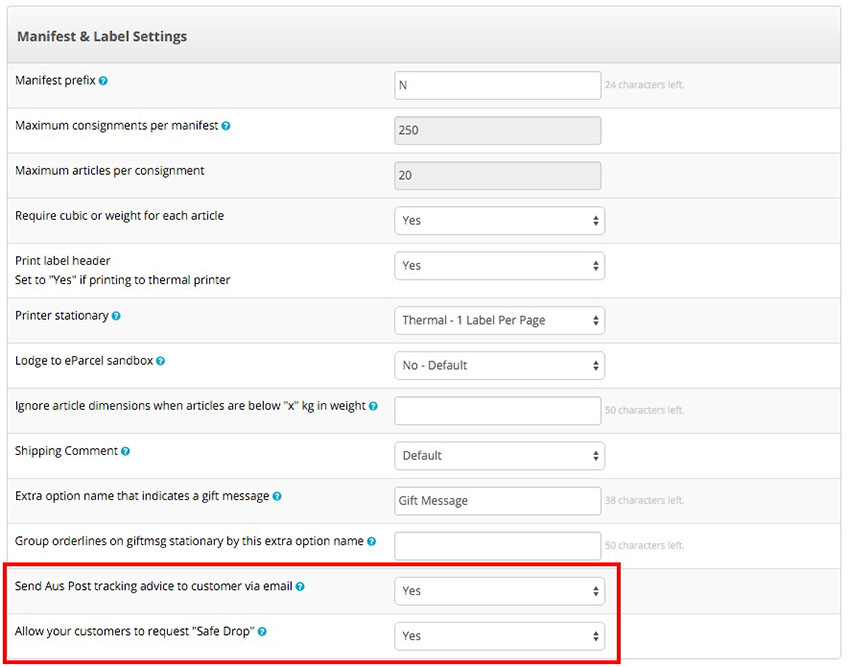 Last Modified: 18/11/2016
Neto Version: 5.91