To use the Smart Send freight aggregator with Neto, you must have a Smart Send account. Your account must be enabled for API - contact Smart Send to enable this.

Setting up Smart Send is broken down into four steps:
- setup a shipping service
- setup carrier labelling
- create a shipping method
- advanced config

Setup a shipping service:

1. Navigate to Shipping > Shipping Services & Rates > Add Shipping Service
(Charge Type: Third Party Shipping Rate)
2. Name the method, and set it to "Active". You can also configure any levies and allowances to be applied to the shipping method.
3. In the "3rd Party Calculators" area, select "Smart Send" in the calculator field, then choose the service from the the service name field. This information is populated based on the carriers allocated to your Smart Send account.

4. Choose shipping zone. Selecting the "Australia" zone will make the option available throughout the country, and the API will exclude any areas not serviced by the courier. You are able to configure custom zones or limit zones if you prefer.
5. Save & close.
Setup Carrier Labelling
1. Navigate to Shipping > Label & Carrier Config > Add New > Smart Send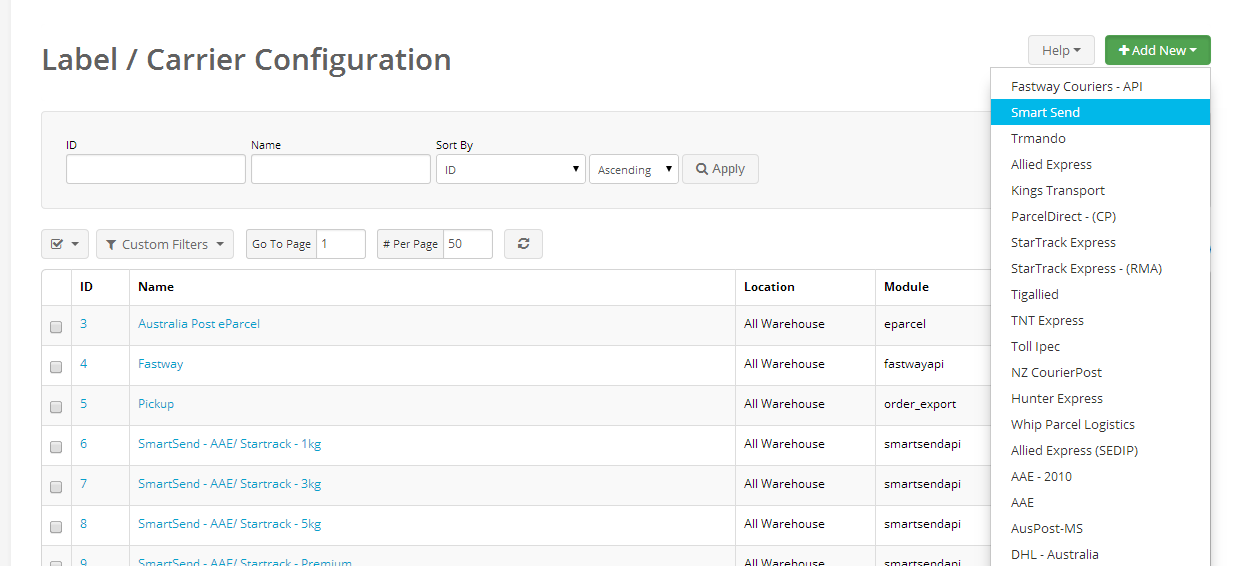 2. Enter your Smart Send credentials (same details that are used for the Smart Send dashboard).


3. Complete the "Carrier & Account Details" section:

- choose a name (typically the same as the name of the shipping service, for ease of use)
- choose a "ship from" location. This field is populated by addresses stored in your Smart Send address book. If no options are available, you will first have to add one.
4. Complete the "Manifest & Label Settings" section

- options should be configured as per the example. You can choose to increase the max number of consignments and articles if you wish.
- select the "shipping service" to map to. In this example it is "Smart Send - IPEC Road Express"
- Select "No" under "Print Labels on A4 Paper" if you are using a thermal printer, and "Yes" if you are using a laser printer.
5. Save & close.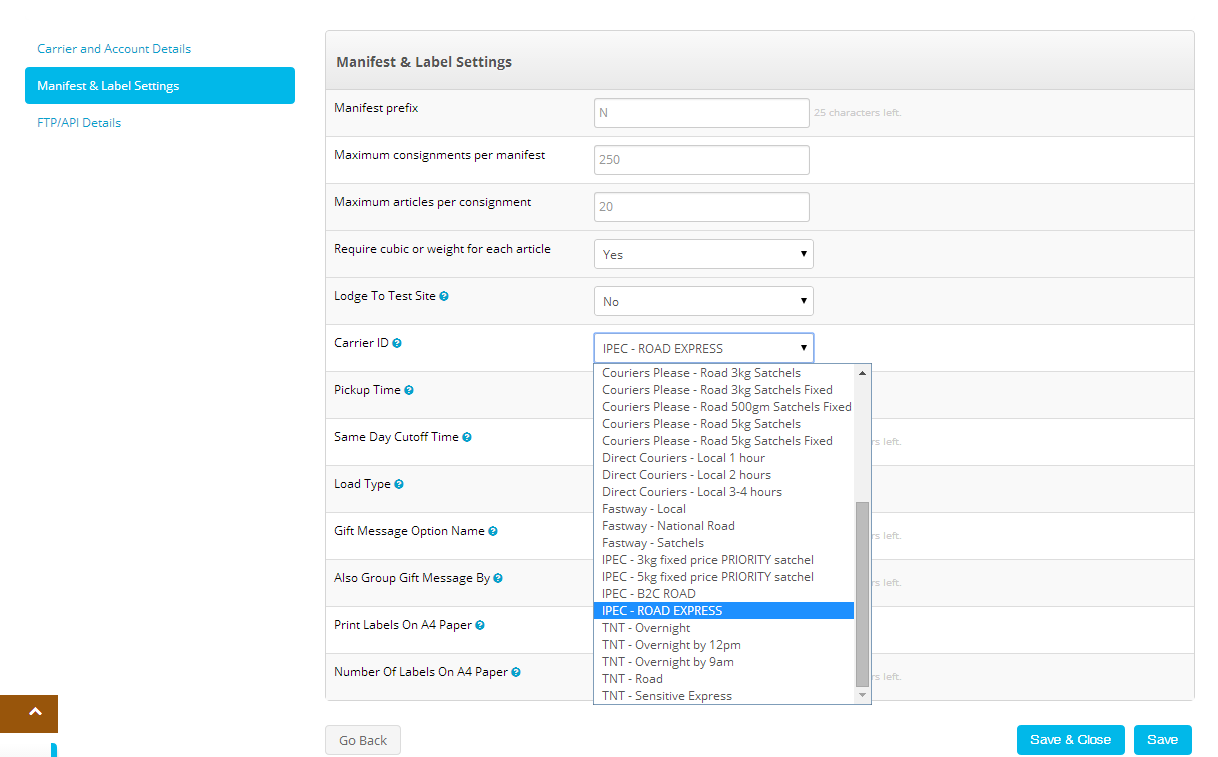 Create a Shipping Method

1. Navigate to Shipping > Shipping Methods > Add New > Add New Method

2. Populate the method details. Typically the method name would be the same as the service name, but this information is see by your customers, so you may wish to name it differently. The method must be set to "Active", and the method visibility configured. You may also configure the method further, according to your requirements.


3. Map your shipping category to your shipping service. Most clients will just be using the "default" shipping category, but if you have additional categories, you can use the "Add Shipping Category" button.


4. Save & Close
Advanced Config
1. Navigate to Cog Icon > Advanced Config
2. Search for "SmartSend" in the "name" field, and then update the username and password.
Check Your Setup

1. Navigate to Shipping > Shipping Matrix Overview to view all shipping methods currently setup in the system. You can view the "active" and "visible" status from this screen. If you have correct setup all elements of the matrix, then your shipping option should display a green tick on the right hand side. If there are errors, these will be highlighted in yellow, and will display a link to what needs to be fixed.