Content zones are bits of content that you can embed anywhere on the front end of your site, Facebook or eBay and edit from your Neto control panel. They are useful for paragraphs or chunks of information that will be used in several places, but stored in only one area to make updating quick and easy.
Typically, your designer will do the initial content zone set up for your, as it requires a small amount of proficiency with code.
To edit a content zone
Content zones can be easily edited by:
Go to Content > Content Zones > View All Content Zones.
Select the content zone you wish to edit.
Use the source code or WYSIWYG editor to change edit your content zone
Save your changes
To add a new content zone
You can add a new content zone by going to Content > Content Zones > Add New Content Zone
Enter a unique Zone Name / ID. This is what you will use to reference the contact zone in the theme template.
In the Content section, you can enter HTML code by clicking on the Source Code tab or click on the WYSIWYG Editor to enter the content and it will generate the code for you.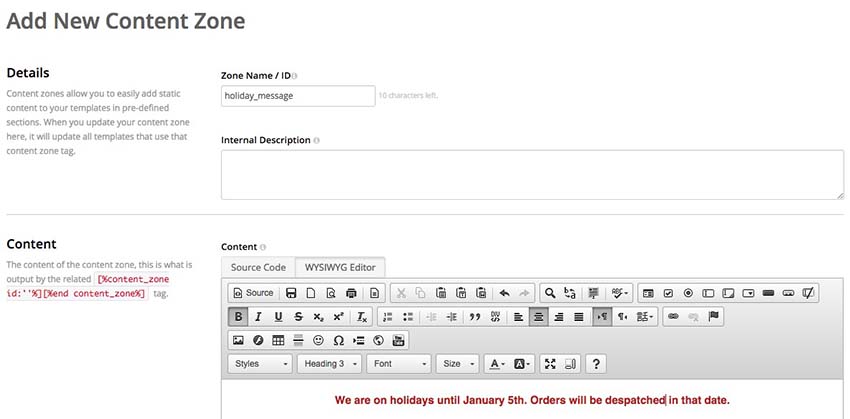 Your content zone will not show up on the front end unless you add in the tag below to the template you want it to display in.
Remember to replace ZONEID with the ID of your new content zone.
Some of the most common zones our designers will set up are as follows: