We recommend contacting your merchant to see if you are getting the best deal from your gateway provider.
Your rates are set at the beginning of your contract and you may be entitled to better rates if your business has grown significantly since the original contract.
Ring your provider and see if you are getting the best deal and always shop around to compare the prices with different providers.
In Neto you can change your payment gateway at any stage. The system will not allow you to delete a payment method if it links to existing orders. You can however set old payment gateways to inactive and not visible to your customers.
Creating a new Payment Method
You will need to set up an account with your bank or payment gateway provider in order to use this facility.
For a full list of gateways and methods Neto currently supports, see our payment methods guide here.
If you already have your payment gateway or account setup, you need to simply to add this information to your Neto control panel.
From the Neto dashboard, go to Setup & tools > Payment Methods.
Click on the Add New button.

Select the payment method you want to add by clicking on an option.

Depending on the option selected, a pop-up window may appear so you can refine which payment gateway you want to use.

Select the payment processor in the first drop down menu and then select which of the payment products you have applied for in the second drop down menu. Then click on Continue.

A new payment method form will appear.
Type and Status
You can select what position this payment method appears on the drop down list on the Checkout page. To set the orders, enter a number under Sort Order. The highest number will make the payment method first in the list and the lowest will appear last.
Under Display Name, enter the name for this payment method. (this option is not on all payment methods)

Please Note: Changing Visa/MasterCard titles will remove the respective logos from the front-end of the website. To restore, just simply put the names back exactly as they were (be aware these are case sensitive too).

Under Payment Methods, check the credit cards you want to support on your site. (this option is not on all payment methods)
To make this payment method inactive, click on the switch under Active/Enabled. Blue is active and gray in inactive.
To show this payment method to customers on the Checkout click on the switch under Show on Website. If it is blue, this payment method will display to customers and if it is gray, it will be hidden from customers but you can still use it for orders in the control panel.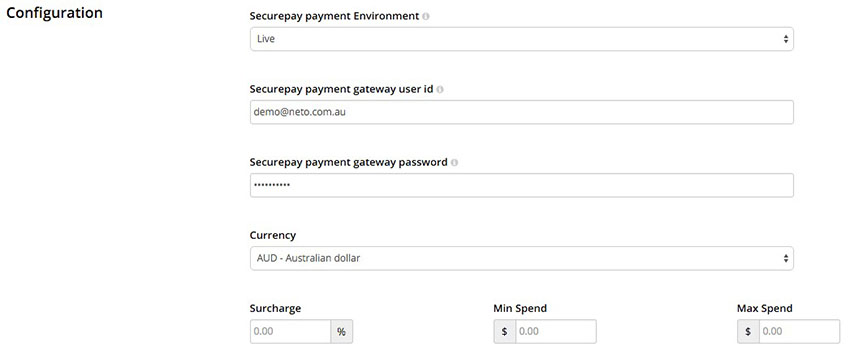 Configuration
Setting an existing Payment Method to Inactive
From the Neto dashboard, select to Setup & tools > Payment Methods.

Place a checkmark in the payment method you would like to disable and select the Mark as inactive option on the With selected button at the bottom of the list.
Last Modified: 12/09/2016
Neto Version: 6.3