Why is omni-channel the future of retail?
Omni-channel retailing is a multichannel approach to sales that seeks to provide the customer with a seamless shopping experience whether the customer is shopping online from a desktop or mobile device, by telephone or in a bricks and mortar store.
This represents a major step forward in how online stores think about customers and cater to their needs.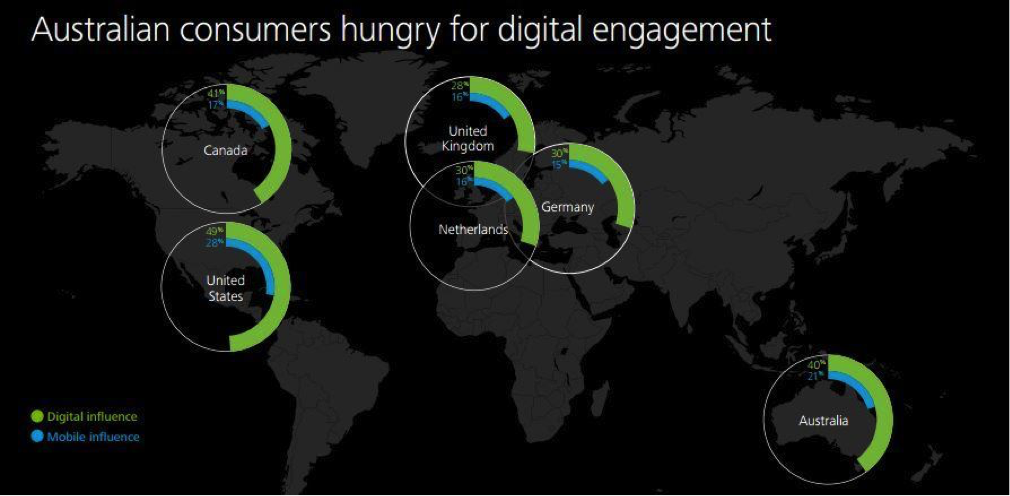 Image and statistics source: http://landing.deloitte.com.au/rs/761-IBL-328/images/au-deloitte-technology-digital-divide-140715.pdf
Having an omni-channel strategy is especially important in Australian retail. A 2014 study showed that digital had an influence on 40% of in-store visits. This is consistent with global trends showing that digital channels are strong in the US, Canada and Australia, more so than in European countries. In terms of mobile influence, high usage of smartphones (social media in particular) has placed Australia sixth globally at 21%.
Here are just a few reasons why omni-channel retail is the way forward for your company.

Compliment your online store by selling on eBay
Advantages of eBay include ease of use (for both buyers and sellers) and instant access to a global marketplace.
An effective strategy may be to sell through both. Harnessing eBay's large customer base to bring in new business and subtle encouragement of buyers to check out your online store for more great deals can be highly effective.

Comparison Shopping Feeds
Comparison Shopping Feeds aggregate product information from various retailers into a single search results page for convenience. The feeds allows potential customers to see pricing without having to click through to your store. This strategy tends to be more effective for an established retailer, with the purchasing decision tending to be made on price above all other factors.
This offers a great opportunity for online retailers to attract new customers by demonstrating through a neutral third party that you offer greater value than your competitors.

Creating value through social media
Social media is an integral part of omni-channel, both as a source of customer insight and a means to supplement other channels. Not only are social media users 26% more likely to buy than other customers, the usage of these platforms has grown 170% since 2014.
Customers can use social media at all stages of the buying process. Hearing product experiences from friends, tagging locations they've been to, and posting on the seller's page with questions or feedback are all tactics retailers should enable to amplify their omni-channel reach.
In addition, social media can be utilised as a means to acquire new customers. A 2014 study revealed that in 70% of business-to-consumer markets, customer acquisition has resulted through Facebook. This goes to show how invaluable Facebook can be in selling to your customer base.

Informing and educating the customer
Today's shoppers do their research. Studies show that 72% walk into a store knowing exactly what they want to buy, what it costs and how it compares to competitors' offers. Because customers are so hungry for information, it pays to make it readily available through your online store, blog and product pages.
It's crucial you make this information consistent across all omni-retail channels. If something doesn't add up (such as pricing or product information), you'll lose the customer's trust and consequently, their business.

Provide convenience with click and collect
Click and collect is a middle ground between shopping in-store and online, offering the convenience of online shopping without the delivery costs or potential delays that come with it. This blended approach has a surprising payoff, with 52% of Australian shoppers spending more when using click and collect.

Retain a physical presence
While it may seem that online stores are taking over the market, having a physical store for customers to visit provides a valuable competitive edge. Customers tend to spend more when visiting a physical store than when shopping online. Moreover, research shows that customers that use digital channels both spend more per in-store trip and return more frequently.

The future is now
With digital and mobile use ever on the rise, omni-channel retailing in Australia is set to soar.
To help you make the most of this powerful evolution of retail, Neto provides an integrated platform for all your omni-channel needs.