To build an open commerce platform that delivers the most effortless user experience and enables merchants to sell everywhere and manage everything.
We're building a community of visionary and progressive business people, both staff and customers alike. We provide them with the tools, guidance, and inspiration to sidestep their limitations and fulfil their dreams. There's no place for gatekeepers in our world. Knowledge is for sharing, and we've got more than enough to go round.
Our values
People are our most valuable assets at Neto.
Our highly aligned, but loosely coupled teams love to share ideas, collaborate on projects, inspire each other, and jump in whenever someone needs a hand. We value high performance and our fun, supportive work environment motivates us to achieve that in everything we do.
Our mentors within the business put things in context rather than taking control, so you can work autonomously and take responsibility for what you produce. Owning your work is important to us, because it helps you become better. We are empowering merchants across the globe to realise their dreams and our team is working on creating the world's most valued commerce platform.
So if you'd like to grow your skill set, embark on a fulfilling leg of your career, and work with some genuinely awesome people to shape the future of ecommerce, we'd love to meet you.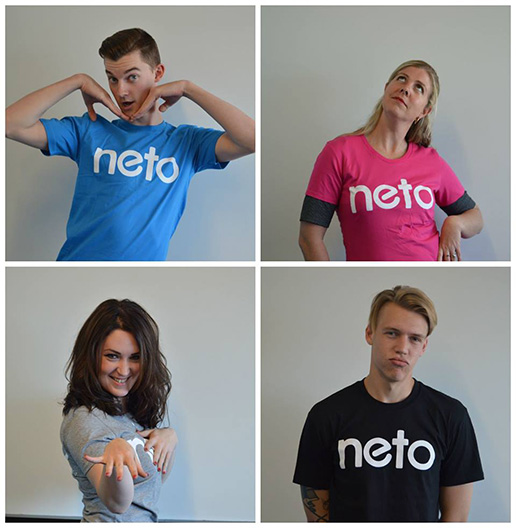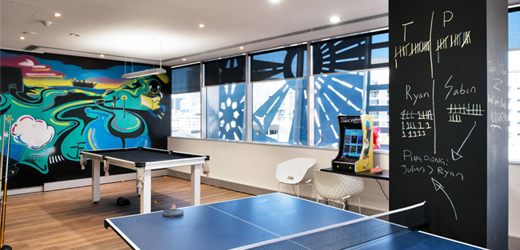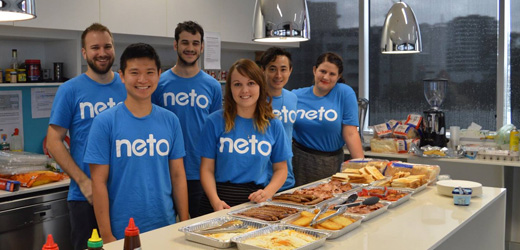 Games room
Take a break and play some pool, ping pong, or darts; or try out our retro arcade consoles! If you're an ace, enter our monthly pool competition.
Free online store
Got a great webstore idea? You'll get a free Neto store to play around with and all the help you could ever need to take your side project live.
Monthly staff events
Sometimes it's karaoke, a movie night, or even 'The Amazing Race'! Whatever it is, we love letting our hair down with our mates after a busy week.
Monthly BBQs
Every team gets a turn at putting on a barbecue for the office and we love to get creative. So if you love to cook or just love to eat, you'll fit right in.
Guest speakers
Seeking advice on your finances or health is tricky while you're working full time. That's why we have guest speakers come to you.
Beer on tap
Grab a beer and watch the sun set over the balcony after our weekly office wrap up session. That's what we do most Fridays at Neto!
Wear what you want
It's not what you look like, it's what you do! Be comfortable when you come to work and spend your time on more important things than ironing.
Free coffee
We make sure you get your daily caffeine hit without breaking the budget. Our Neto office comes equipped with a café-grade coffee machine.
Neto sports teams
Are you a team player on the court as well as in the office? Come and unleash your competitive spirit with our Neto netball and soccer teams.
Scooter track
Travel in style when getting to a meeting on the other side of the office. Just grab a scooter and follow the track. You'll never be late at Neto!
Our people
Why do you love working at Neto?
"What makes Neto stand out from my previous workplaces is our hands-on management team, who are approachable and open to ideas from anyone who has something to say. The feeling of knowing you're appreciated and respected by everyone here makes the work you do so much more meaningful."
"Being a developer at Neto rules! It's amazing to be surrounded by so many dedicated, friendly, and talented people. I have worked at small start-ups, large telecoms, a world-renowned video game company, and the Kennedy Space Center, but Neto has the greatest people and culture I've ever experienced."
"I honestly enjoy coming to work every day. The perks are great, but I think what makes Neto exceptional is the people. I've learnt so much, not just about design and front end development, but also how a successful team works, why our work is important, and what you can achieve if you put in the effort."
"Not only are there many mentors within the company, but our customers are all business owners worthy of admiration themselves. All staff are given the chance to contribute to a product and customer experience which powers thousands of businesses within Australia's new economy of SMEs."

Rebecca Browne
Accounts

Jeff Stamborski
Developer

Caitlin Schmidt
Front-end designer

Brandon Sheppard
Head of Onboarding
Join us
Make a name for yourself in the global world of IT and ecommerce by joining one of Australia's most successful ecommerce companies as we expand globally.
None of these right for you?
Please register your details to receive information on any upcoming jobs or submit a resume to put on file.
Contact us
A Day in the Life at Neto