Note:
We have updated our folder structure in Neto 6 and this has not been updated on all tweaks yet.
More info
.
designarticles/documentsandemails/systemdocuments/addresslabel
Address Label
What is an Address Label?

Address/shipping labels are carrier-specific printable documents used to label packages for shipping.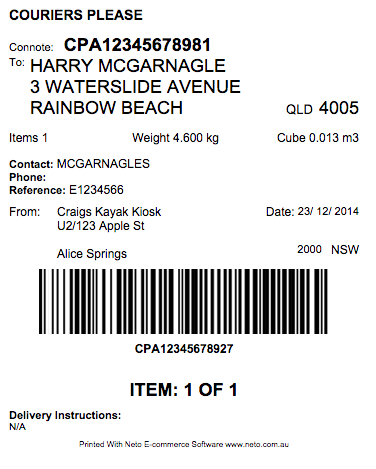 Accessing Address Labels via FTP
All Address Labels are stored here on the file server: /private/www/netosuite/SysDoc/printdocs/order/addresslabel.
We recommend backing-up all print docs before making modifications.
How to determine which template a specific Services & Rates table is using
To determine which template your services & rates table uses, you simply need to follow these steps:
Navigate to Shipping > Shipping Matrix Overview
Under each shipping method there is a Carrier / Labelling heading. This section contains information regarding the carrier.
Under the Carrier / Labelling heading, there is some muted text. This is the name of the label template. For the example below, the label template would be called generic.template.html