Mapping Payments
Mapping your payments is necessary to ensure payment types in eBay match the payment types setup in Neto.
To do this from the Neto dashboard, go to Setup & Tools > Payment Methods





Select the payment you wish to map.

Scroll to the bottom of the setup and under eBay Payment Mapping select the corresponding eBay payment method you wish to map and click Add eBay Payment Mapping and press Continue.
Mapping Shipping
Mapping your shipping methods bridges the shipping options in eBay and Neto. This prevents confusion when an order comes down from eBay by automating the process of selecting the right shipping method to use.
To start with, lets go back to our listing rules template. To go to this from the Neto dashboard, go to Ebay > Listing Rules Templates and select a template.

Once here, go to the Shipping tab and scroll down to the Domestic Shipping section.






In the Services field, these are the eBay shipping options that you need to map. In the example above, the eBay Service is called Courier (1506).

Note: If you have selected Freight: Large and bulky items this does not require mapping as this is determined by Neto automatically.

From the Neto dashboard, go to Setup & Tools > Shipping.





Click on Shipping Methods





Click into the Shipping Method you want to map.

Scroll to the bottom and click the Map This Method to eBay Shipping Service tab.

Select the eBay Site.
Fill out the Search For eBay Shipping Service To Add: with the eBay service and press the 'Add Service' button.
Click Save & Close.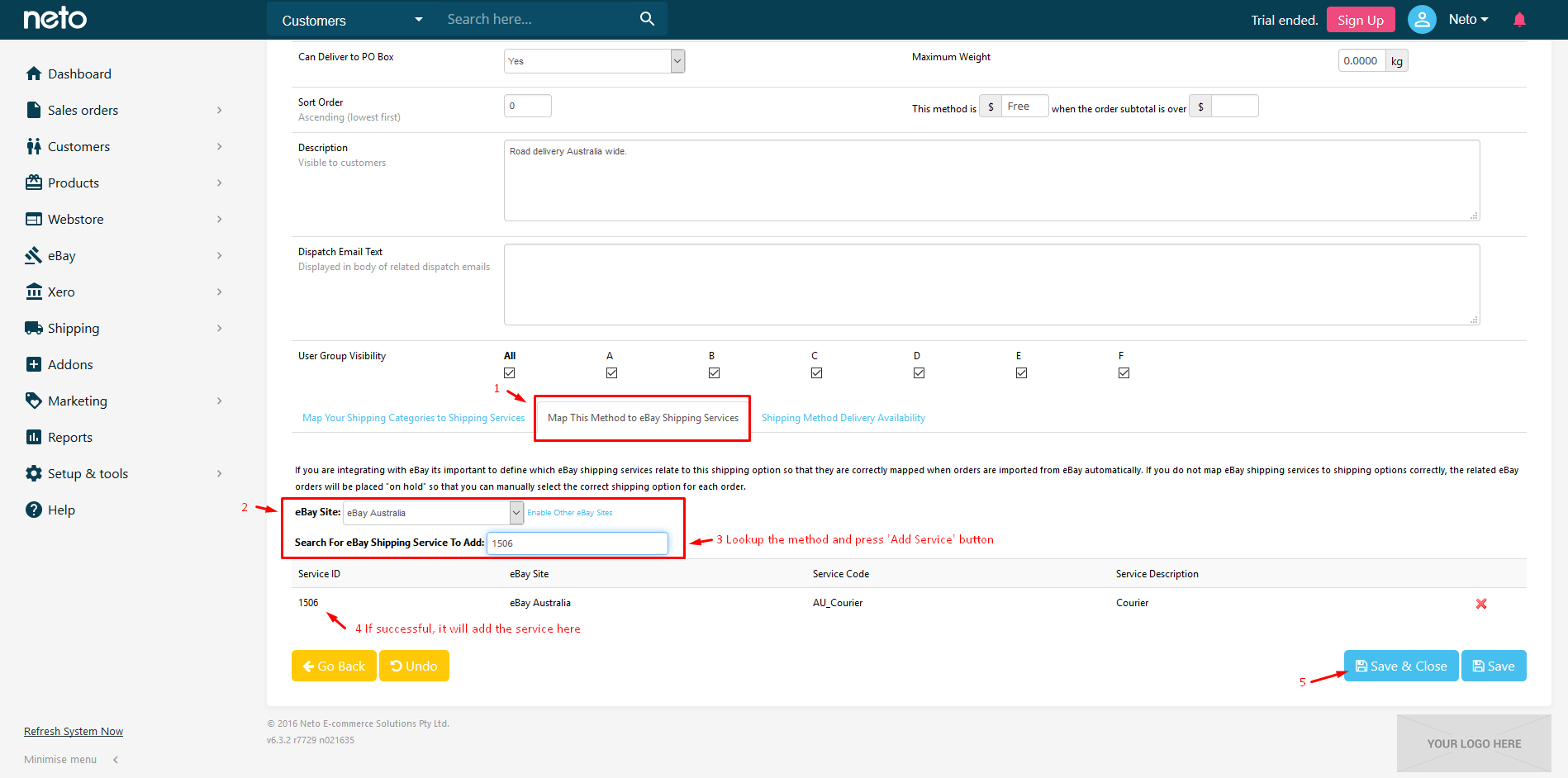 Last Modified: 02/08/2016
Neto Version: 6.3