In the Shipping section you can tell customers your item location, buyers requirements, where you will and won't ship and the cost structure. We've highlighted the common fields that are filled out in this section.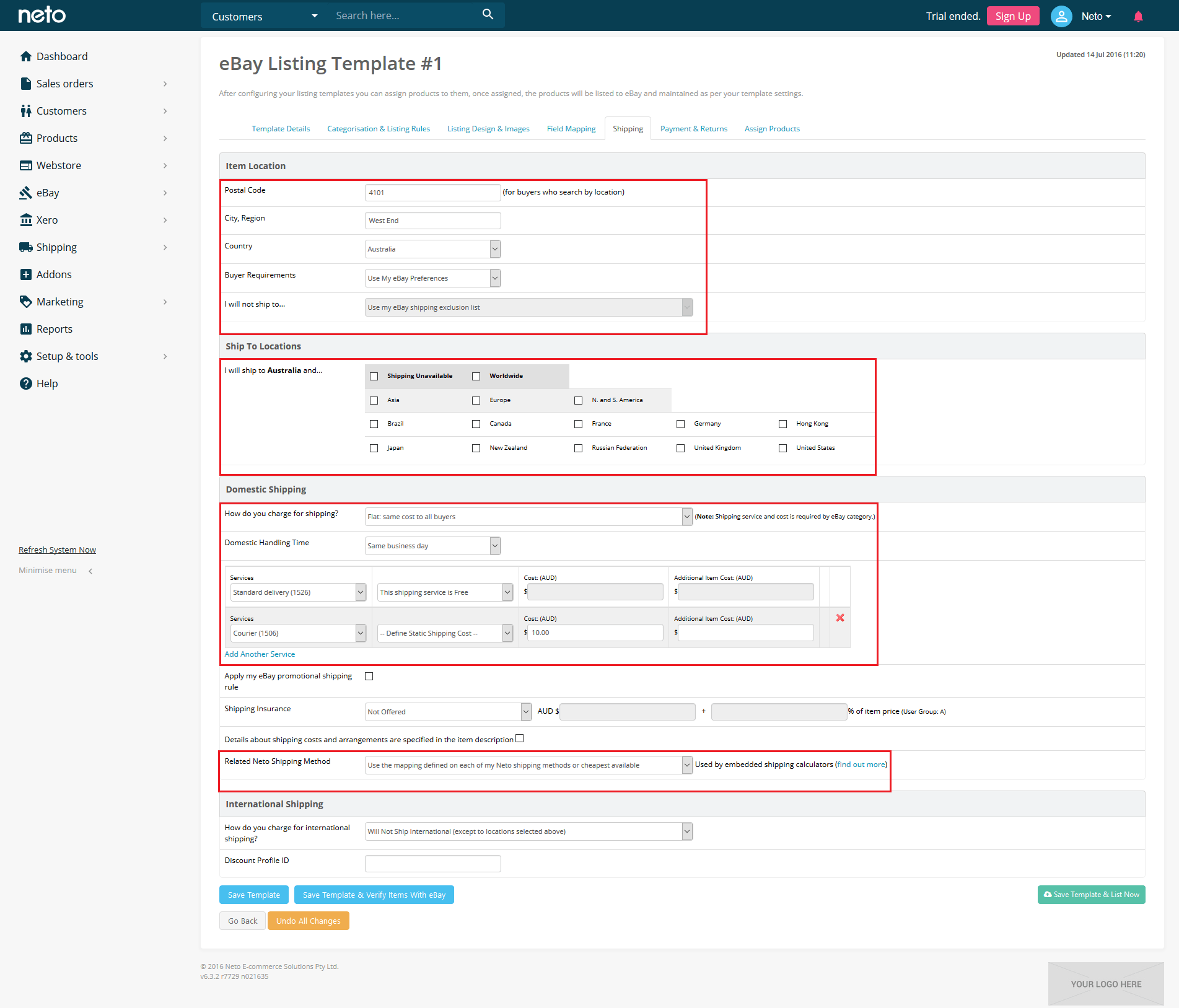 Add the location of the item and set your buyers requirements manually or by eBay preferences.


Under Ship to Locations heading, if you do not intend to list overseas, you can leave this section blank.


Domestic Handling Time is the time it takes for the warehouse to dispatch the product. As good practice, this should be set to 1 or 2 days max. This is not to be confused with mailing time.


Under Domestic Shipping -



| Shipping Type | Explanation |
| --- | --- |
| No Postage | Item is only available by pickup only |
| Flat | Single shipping price or free shipping nationwide |
| Calculated | Uses eBay's internal shipping calculator to calculate costs |
| Freight | Uses Neto's Shipping Matrix to calculate cheapest courier/rates |
| eBay Domestic Rate Table | Uses rate table setup in eBay |




If you choose eBay Domestic Rate Table you can still select services and costs which will act as fallback rates for areas which are not defined in your rates table.

If you have promotional shipping rules setup in eBay, tick this option. You can read more about this from eBay's Postage discount rules guide.




Shipping Insurance section is only relevant for international ebay sites and not for eBay Australia.




For Related Neto Shipping Method, this should be set to Use the mapping defined on each of my Neto shipping methods or cheapest available. This will use Neto's shipping matrix to define the cheapest couriers and rates to ship.


Alternatively, if you don't wish for Neto to automatically select your method, you can define the shipping method you wish to use instead.



Add your international shipping services. If you don't ship overseas, simply leave this blank.



Under Dimensions, Packaging & Handling tick Use Item's Shipping Weight. This will calculate weight from the product level so ensure these fields are filled out to ensure accurate shipping.


Under Packaging & Handling Fee set your postcode.
Once completed, click on the Payments & Returns tab.
Continue to Step 6.
Last Modified: 18/07/2018
Neto Version: 6.3