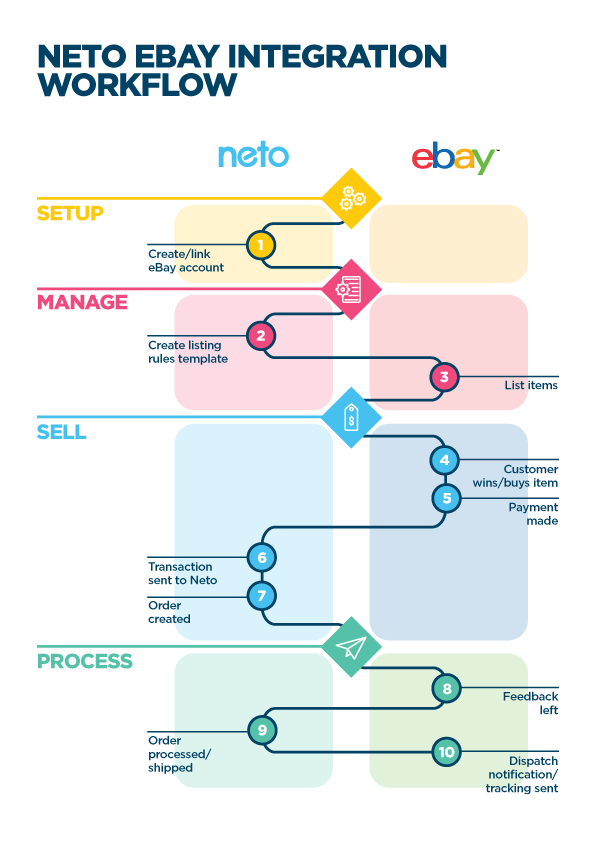 Create/Link your eBay account to Neto
Create a listing rules template
List your item to eBay
Customer wins or buys item on eBay and makes payment (Buy It Now)
eBay sends payments details to Neto
Neto applies payment(s) to related order (payments can also be applied in Neto, which will sync back to eBay)
Neto leaves feedback for customer on receipt of payment (optional)
Order processed and shipped in Neto
Neto sends dispatch notification and tracking information to eBay and marks order as "sent" in eBay
Listings
Listings can be managed at almost any point in time after they are listed. Titles, images, descriptions, categories, prices, stock levels etc can only be changed on an active listing allowing freedom to adjust your product data. All these changes are made in the system and then subsequently pushed up to eBay.
Transactions
Each time a customer wins an auction on eBay or purchases a "Buy it Now" listing, a unique transaction number is created in your eBay account. Neto periodically downloads transactions every 15 minutes to your Neto control panel. You can set up instant eBay order downloads via API.
Orders
When a customer completes checkout on eBay, an order will be created in Neto. In some cases customers will purchase multiple items (transactions) which will be combined into one order when the customer completes checkout on eBay. The option to combine items is provided to eBay customers during their eBay checkout process.
If a customer does not complete checkout on eBay, a Neto order will not be automatically generated. Instead the related transaction will sit in your eBay transaction log pending processing. You can then manually create an order from the transaction if necessary. You can also combine multiple transactions and create a single Neto order.
After you have processed an order in Neto and marked it as dispatched, Neto will automatically mark the order as "sent" in eBay and update eBay with shipping tracking details, if available.
Last Modified: 18/07/2018
Neto Version: 6.8