Setting 'Out of Stock' to Active Listing
---
Setting 'Out of Stock' to an active eBay listing will remove the 'Buy it Now' button, allow you to retain your listing and the 'sold' history for up to 3 months. If you fail to restock within this time, the listing will be removed by eBay.
You will need to ensure that your Out of Stock control in eBay > Settings > Store Manager > Select account is turned on otherwise, it could end your listings.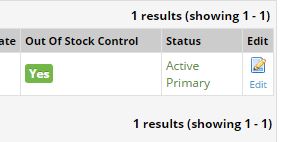 In your listing rules template, go to 'Categorisation & Listing Rules' tab and scroll down to 'Stock Control'. Set the ' Maximum Quantity to List*' to 0 and save the template and revise the current listing.

It's recommended duplicating the current listing rules template and naming it 'Out of Stock' to easily segregate these listings.






Last Modified: 04/01/2017