How to Write Fashion Product Descriptions That Sell
A smart fashion retailer knows that product descriptions can mean the difference between making a sale, and losing a potential customer forever.
They can give the consumer the information they need to feel comfortable parting with their money. They can change "that's a nice coat" into "I MUST have that coat".
The good news is that communicating your product's value is easy when you follow these simple tips…
1. Know your ideal customer
When you're trying to write for the masses, you end up pleasing nobody. Instead of thinking about all of your potential customers, think about your ideal one and speak directly to them. They are the ones you want to convert because these are the ones that will be repeat customers.
Oxford Shop does this in their description of their 'Stretch Travel Shirt', where they speak directly to professional men who like to travel.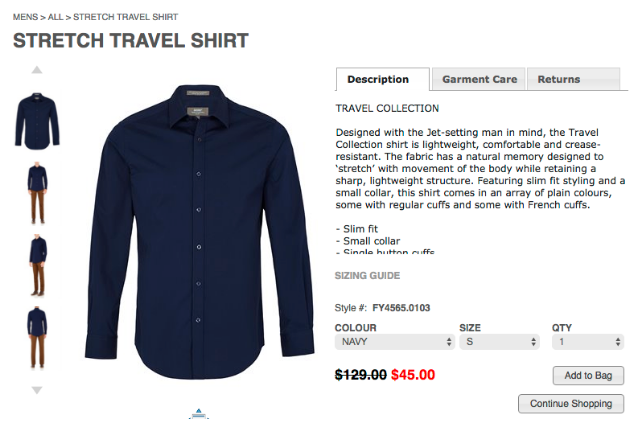 Image via Oxford
2. Avoid jargon
You might have been in the fashion industry for years and know a thing or two about inside fashion lingo, but the average shopper might not. Don't use words only you can understand, and keep product titles simple.
3. Watch your tone
It's important to remember who your target audience is when writing product descriptions. Your voice should express the personality of your brand. If you are a retailer of high-end suits and office wear, you want to avoid sounding too trendy and stick to words such as "polished", "classic", and "delicate". If, however, you are a retailer of brightly coloured streetwear, you can afford to adopt a language that reflects this, using words such as "funky", "unconventional", and "expressive".
Culture Kings provides a good example - with their young, urban vibe, they can get away with saying things like "this crew has all the good and so much more".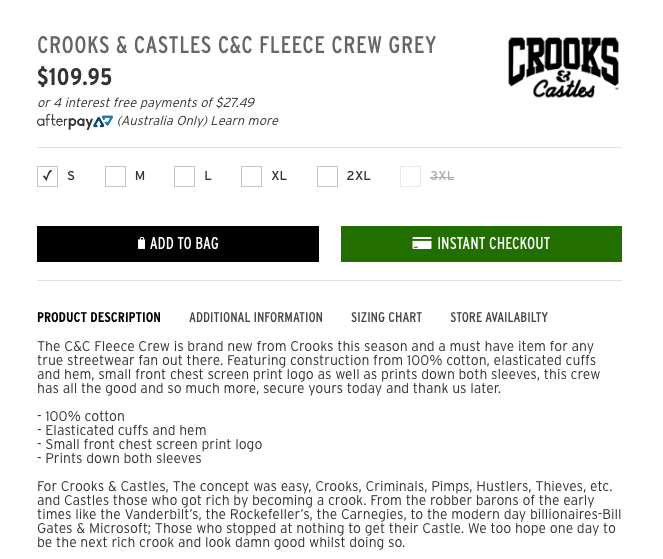 Image via Culture Kings
4. Be creative with descriptive words
Adjectives allow the buyer to tap into how something may make them feel, but avoid using self-praising phrases such as "excellent" and "superior". Consumers don't want to feel that you're suggesting they don't have the ability to judge a product for themselves. Instead look to descriptive words that offer the details that build up to "excellent" and "superior", such as "elegant" or "durable", depending on the type of product.
5. Think about benefits
Sure, the technical details are important, but mundane features and specifics don't drive sales - listing the benefits does. Shoppers want to know how they will feel in an item and how others will perceive them when they wear it. Make it clear what's in it for them if they buy.
Men's suit brand InStitchu sells the benefits by evoking images of successful businessmen in both the names and descriptions of their suits. The below description reads: "The beauty is in the name. Wear this rakish grey glen plaid jacket and all will know that you are the Boss. Named after the 3 time Melbourne Cup winning champion jockey of Makybe Diva, Glen Boss. Featuring a notch lapel and made from premium Super 130's 100% wool."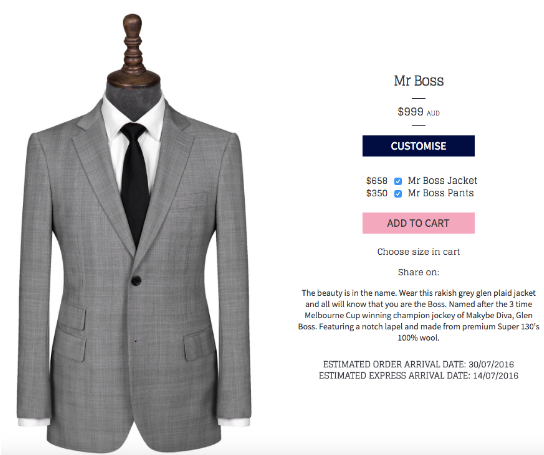 Image via InSitchu
6. Make them scannable
Studies suggest that more than 79% of Internet readers scan through text, picking out individual words and sentences. So in order to decipher whether or not a product is worth reading more about, it must first offer a product description that will stop a reader mid-scan. To make scan-friendly product descriptions you should:
Use short, enticing and easy to understand product names
Use bullet points for technical specifications Ensure a lot of white space within the copy Be concise Use an easily readable font size Offer two descriptive lines to draw readers in
7. Answer their potential questions
Think about any questions your customers may have that aren't necessarily answered by your images. "Does that handbag have an internal pocket for my phone?". "How will I get in and out of that tight dress?". The latter question is answered perfectly by The Iconic in the below product description, which explains that there's an invisible zip at the back of the dress.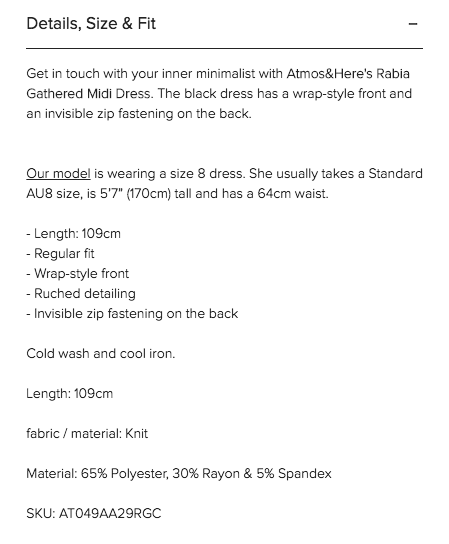 Image via The Iconic
8. Be mobile-friendly
With approximately 81 percent of Australians owning a smartphone, today's customers are frequently shopping on-the-go: from on the train, while on their lunch break, or while waiting for a bus. Your descriptions need to be accessible to a mobile audience, so as well as making them scannable, keep them succinct, with short sentences and paragraphs that get straight to the point.
9. Give style advice
In a physical store you would try to connect with every person that entered in the hope of converting them into a buyer, and the same must go for eCommerce. Think about how you would pitch a product in person and then try to put it into words for online readers. As a fashion retailer, customers will assume you know a lot about trends and style, so offer advice about how they can best wear your clothes.
Net-a-Porter does a great job of coming across like an expert with friendly advice to offer. The below description suggests: "Try yours with a fluid skirt and sandals."

Image via Net-a-Porter
10. Keep description lengths consistent
For the sake of providing a consistent user experience, keep the length and amount of data in your product descriptions the same across each category. If a product doesn't warrant the same length as an other, readers may jump to the conclusion that your product range is inconsistent in quality.
Convert more customers with the right descriptions
Your product description may be the deciding factor that helps you seal the deal when a customer lands on a product that takes their fancy. Follow these tips and you'll be one step closer to making your fashion business dreams a reality.