11 Web Design Examples to Inspire
Web design encompasses many different skills and disciplines: graphic design, interface design, authoring, user experience design, standardised code and proprietary software, conversion rate optimisation, and search engine optimisation.
Effective web design is judged by the users of the website, not the creators. As Steve Jobs said,
"Design is not just what it looks like and feels like, design is how it works."
There's so much that goes into creating an effective website - purpose, clear communication, a well-thought-out colour palette, high-quality images, easy navigation, fast load time, and mobile responsiveness.
So just who is getting it right? Which companies are raising the bar when it comes to high-quality web design? Here, we look at 11 outstanding examples of web design that are sure to inspire.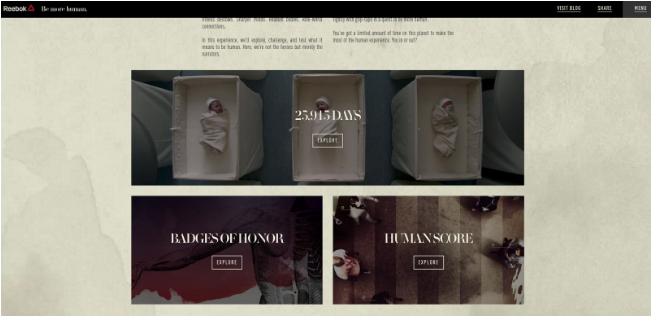 Be More Human is an online destination where fitness enthusiasts can challenge and explore what it means to be human. The one-of-a-kind platform features a number of interactive tools and experiences and was created by Venables Bell & Partners.
Be More Human by Reebok opts for one long page structure that effectively provides all the information you need in one easy scroll. Its powerful grungy, urban style coupled with dynamic effects result in an outstanding user experience.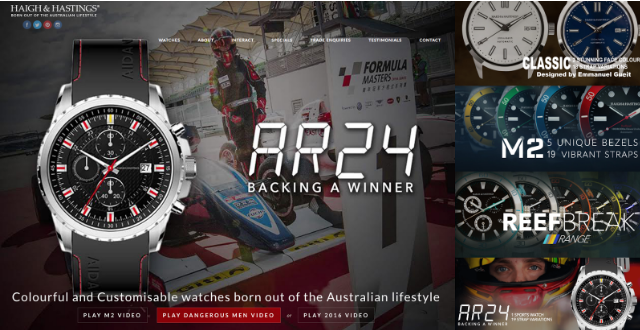 The online Australian watch company Haigh & Hastings launched its first watch in 2014 and already they have cemented themselves as a soughtafter timepiece brand. Perhaps this has something to do with their very clever website? The homepage of the website is elegantly populated with rich multimedia content, with visuals acting as the primary focus of the site. Each image is coupled with a sharp, to-the-point tagline which ensures a comfortable user experience.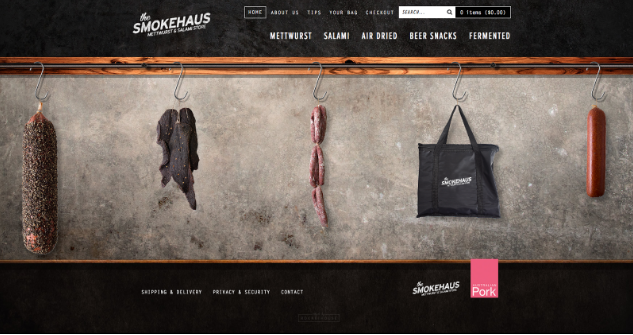 The design of the Smokehaus Australia site is far from the standard design you would see for most food sellers. The site is contemporary and stylised, with the main product range taking up the central focus of the pages and the scrolling functionality making you feel as if you're in store, watching products go by. The harmonious blend of textured visuals and line-style graphics creates a stunning overall aesthetic that fits perfectly with the product range. Before entering the site, you'll be met with a quick description of how best to use the site – not that you need it with the easy navigational design.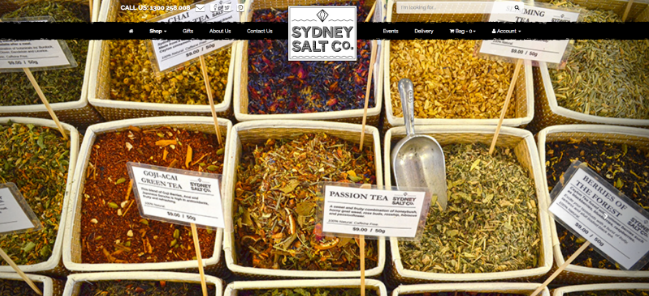 The primary features of Sydney Salt Co's website are bold imagery, bright colours and exciting visuals. The site's homepage features a banner of full-frame product images which instantly entice the user to want to taste and try their range of colourful teas, spices and salts. The raw edges on the navigation banner and what appears to be a hand-drawn logo give the site an overall bespoke touch and an artisan feel. Sydney Salt Co's site is an example of how design can cleverly appeal to the senses.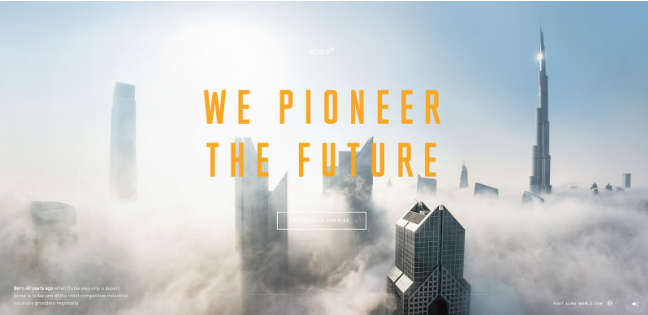 Upon opening the ACME Experience website, you're met with the bold words "WE PIONEER THE FUTURE". With such a loud and promising slogan, it was necessary that the website supported the company's credo with outstanding visuals. It uses symmetrical layout, multi-layered techniques, subtle motion, vivid backgrounds and offers lots of little surprises along the way. In order to illustrate the complexity of creating smart storage solutions, the team used smooth animated combinations of pictures that rebuild themselves like pixels as they change on each page of the website.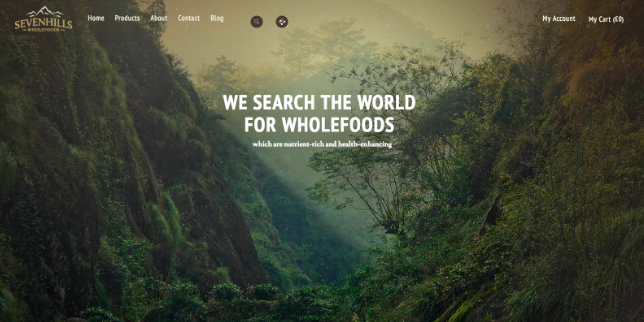 Another impressive example of web design is Sevenhills, a superfood brand that focuses on the fact that nature's continuations and variety can answer to all of our nutrition needs. The experience is a step-by-step journey of Sevenhills' quest to achieve the best of superfoods, while respecting the devotion of the people who contribute to this goal. The website uses story-centred design to take the user on an interactive journey on which they can find out every detail of how their product was sourced – to harvest right through to consumption.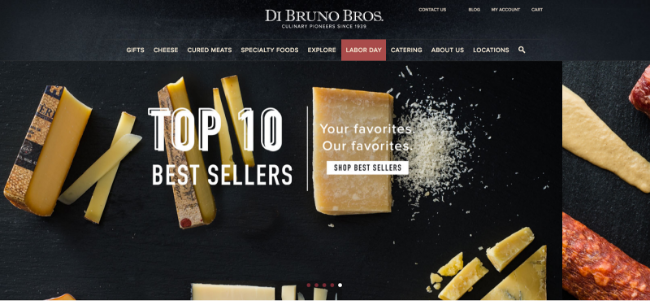 From the moment you enter the Di Bruno Bros. ecommerce site, you become completely immersed in the extensive range of products on display. You simply can't click out and ignore the opportunity to explore cheeses, cured meats and the promise of something new and exciting. Users can browse the endless array of tantalising imagery and click on a picture to get a short preview of each product. This element of discovery mimics the customer experience in store as closely as possible – the interaction is almost sensory.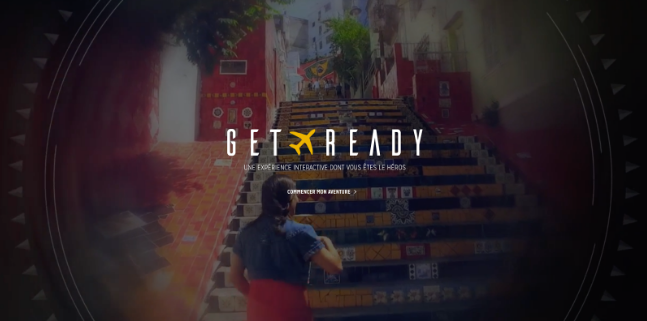 Get Ready is an interactive experience on the streets of Rio De Janeiro. The objective of the creators, Sweet Punk, was to effectively simulate a real departure abroad – to give the user the opportunity to dream of elsewhere in a fun and immersive way. The interactive video is filmed via a subjective point of view. This view – widely used in video games – places the user as the hero of the story. It's the closest simulation to reality as a real trip, users can take photos, send messages, and interact with people on the screen exactly as if they were there.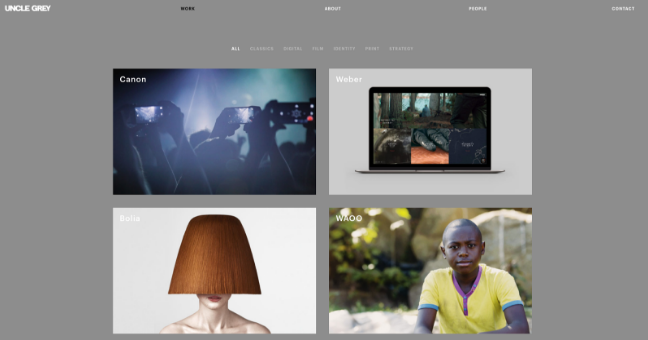 With captivating photography, engaging videos and sophisticated graphics, the BBQ Cultures website is packed with grand design and interactive features. Created by UncleGrey and Weber, BBQ Cultures is an integrated campaign that celebrates the moments, dishes and traditions that make up the world of barbecuing. It takes you on a visual journey that leads you through five different barbecue cultures across Europe and the effort consists of a series of TVCs that allow viewers to delve deeper into the featured cultures.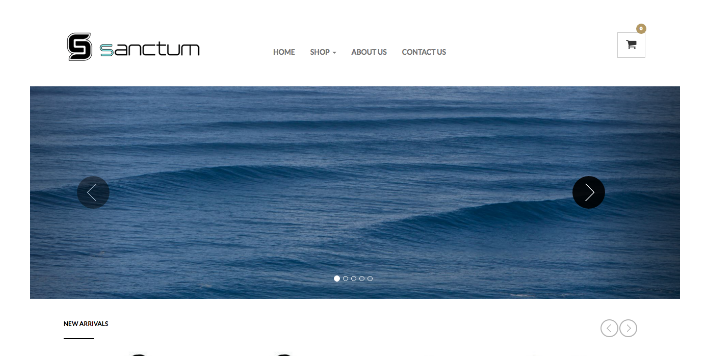 Sanctum Surf's ecommerce site is characterised by clean design, sharp imagery and easy navigation. When you land on the homepage you are greeted with a centred, high resolution image of a deep, blue ocean, outlined by a decent amount of white space. The cool colour palette is emblematic of everything ocean and surf, whilst the white space allows the design to breathe, giving focus to the range products on display. Sanctum Surf is a perfect example of uncomplicated yet sophisticated ecommerce web design.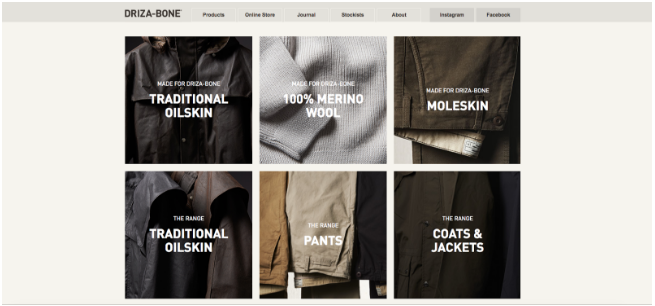 As an iconic Australian brand, Driza-Bone's clothing is all about functionality, timelessness and endurance – and their website is certainly consistent with this objective. Minimalistic in design, the site is composed of a grid structure with strong lines and a muted colour palette, which provide an overall sense of masculinity and maturity. Consistent and straightforward, the site is inviting to the user and simple to navigate.
Inspired?
The key thing to remember when designing a website is how all the elements contribute to the overall experience. Work backwards from your users, then narrow down your options based on what is most visually compelling. Don't forget to zoom in and out to check the overall visual consistency, and come up for air periodically to evaluate your design from the user's point of view.