Implementing off-page techniques for your SEO strategy
There are many people who have run their own ecommerce site for a while but don't know what SEO is or how to implement it.
As discussed in our blog last week, SEO stands for search engine optimisation. This is where you install certain techniques into your website to rank as high as possible on search engine result pages (SERPs). The higher your website can rank on Google or Yahoo, the more traffic your site should get.
You would have discovered in last week's blog that SEO can be split into two separate categories: on-page & off-page. We have already broken down on-page (which refers to all the things that you can do ON your website to help you rank higher). This week, we will diverge into off-page techniques. This includes what you can do directly OFF your website for higher rankings, such as link building and social media. The importance of quality content and tips to improve your SERP rankings will also be covered, providing a thorough explanation of how to implement SEO on your own site.
Off-page
Link building: Link building is the process of acquiring hyperlinks from other websites to your own. A hyperlink (usually just called a link) is a way for users to navigate between pages on the internet.
Backlinks are often misunderstood and past SEO practices have given them a bad name. As few as five years ago, you were expected to buy links to your site from link farms to improve your SERP ranking. This wasn't necessarily considered best practice, but it didn't have the stigma it does today.
Google's Penguin updates over the last few years have been geared towards stamping out this form of link building and instead, natural, earned links have become valuable. This has created outreach email marketing strategies, with key sites being offered content in exchange for a valuable backlink. Another link building tactic is the promotion of your own site's content. With good enough quality, other sites will share it and provide you with valuable backlinks to your website.
Social media: Social media is great for sharing and engagement, which drives traffic to your site through other users linking to your blog or website. Social media has become a key element in brand awareness and customer interaction, both of which are key ingredients Google consider when ranking websites.
The importance of quality content
Content has always been important, but the definition of quality has shifted over the last 10 years. Where it was once possible to simply list relevant words in the footer, now content has to aim much higher. Even the simplest "About Us" page must aspire to be informative and reveal the finer points of your company to a visitor, while also being optimised for a search engine crawler. In the past, this need to serve two masters meant that the user experience often suffered, but as Google has developed and refined its algorithms, the two have become more closely aligned.
In addition to the page content, such as the home page, product pages, and landing pages, blogs have become more important. They provide both the opportunity to engage and educate visitors and a way to rank for long tail keywords. These are keywords and phrases that pop up over the course of a blog without prior planning. They aren't necessarily planned or researched, but can bring traffic to your site via specific queries that lead a user to your blog.
eCommerce sites have the advantage of being able to optimise a large number of pages for specific keywords via their product pages. There is often a temptation to take the shortest and easiest route by using the manufacturer descriptions, but, this is a missed opportunity and can actively damage your rankings. Duplication is a negative in SEO terms, both within your site and externally across the internet. Therefore, it is important to write your own unique product descriptions. Aside from the branding consistency, you will be able to apply to each one, it will also eliminate the duplication issues. You can also optimise them for the right words and give your site the best chance of a high ranking.
Tips to improve your SERP rankings
Outside of the major details, SEO success can come down to the little things. Below are a few of the smaller aspects that can often be overlooked but are important to the big picture.
Canonicals: Ensure each link points to the same version of a page. For example, links back to your homepage should be aimed at http://www.mysite.com.au, not http://www.mysite.com.au/index.html. This also applies to protocol variations (http vs https, etc).
Unique titles and meta descriptions: Duplication problems can also occur in the small title tab at the top of the browser. Ensure each of these is relevant to its page and different to all the others across your site. Meta descriptions—while not in themselves a vital rankings factor—influence the CTR, which is. Each one should be a mini advert for the page it appears under on the results page.

URLs: Speaking URLs give you an influential place to put your keywords. If the page is about men's brown shoes, then it should read /brown-mens-shoes, rather than a random string of letters and numbers. This is also a good guide for users who are looking for something specific and a URL that isn't informative may deter them from entering the page.
Sitemaps and robots.txt: A sitemap is exactly what it sounds like. It lays out your site structure in an easy to follow format for the search engine crawlers. A robots.txt file then tells the crawler what it can and cannot access. This is a good way to bypass pages with unavoidable duplication, as well as backend login pages and administrative functions that don't need to be indexed.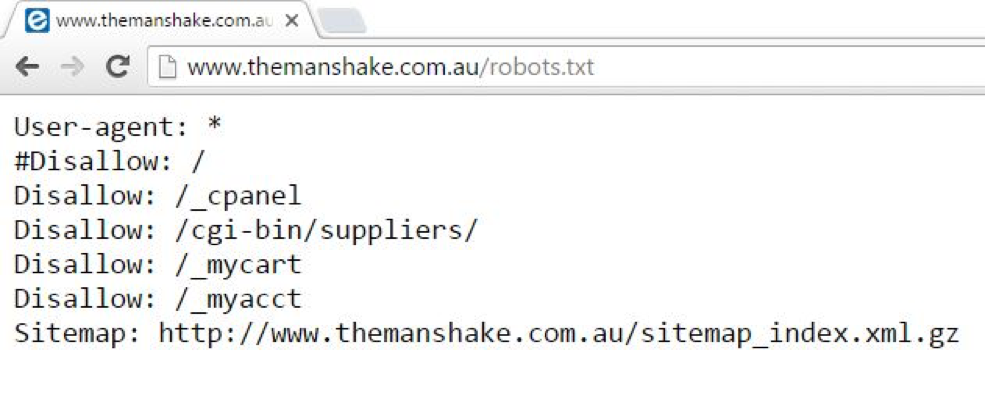 User experience as the ultimate goal
SEO is a constantly developing process. Google's own guidelines state that the best way to ensure your site has the best chance of a good ranking is to make it a site for people, not robots, crawlers and algorithms. As a business, Google wants to have the best sites on its front page. By placing user experience at the centre of your site's SEO strategy, you can build a site that ticks the right boxes of engagement and education, improving your site's analytics metrics and demonstrating its authoritativeness and relevancy to Google.