Customer User Groups is an Add-On. If you don't see them when viewing a customer card you can install the Add-on.
You can assign customers to different Customer User Groups to allow different product prices, access to products/pages on your site and also what payment methods they can use.
With Customer User Groups you can:
Assign different pricing to:

Customers (i.e. retail / wholesale customers)
Sales Channels (i.e. eBay / webstore)

Restrict products, product categories and other content pages based on the Customer User Group assigned to the customer.
Select which payment methods are available to each Customer User Group.
Set a minimum total amount for orders placed by a customer.
Use the Customer User Group to trigger discounts or free products.
Send monthly statements based on their User Group.
By default there are six different groups for customers - A, B, C, D, E and F. You can change the names of each group and add new groups.
By default, all customers are assigned to group A. To change a customer's group:
In your control panel, go to Customers > View All Customers.
Click on the username of a customer.
In the User Details section select the group under User Group.
Save the change.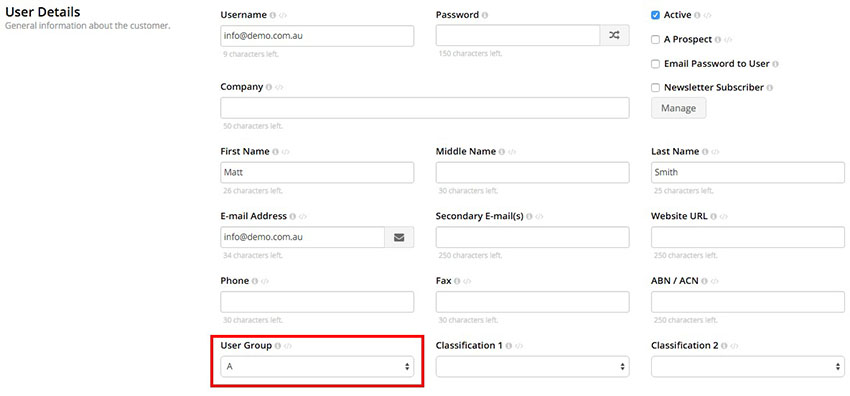 Last Modified: 12/11/2015
Neto Version: 5.92