Neto has a large number of predefined product fields available to use. You can also create your own "custom" fields if one does not already exist.
To add a new field from the Neto dashboard, navigate to Setup & Tools > All settings & tools > Products tab > Click Custom Product Fields and click Add New.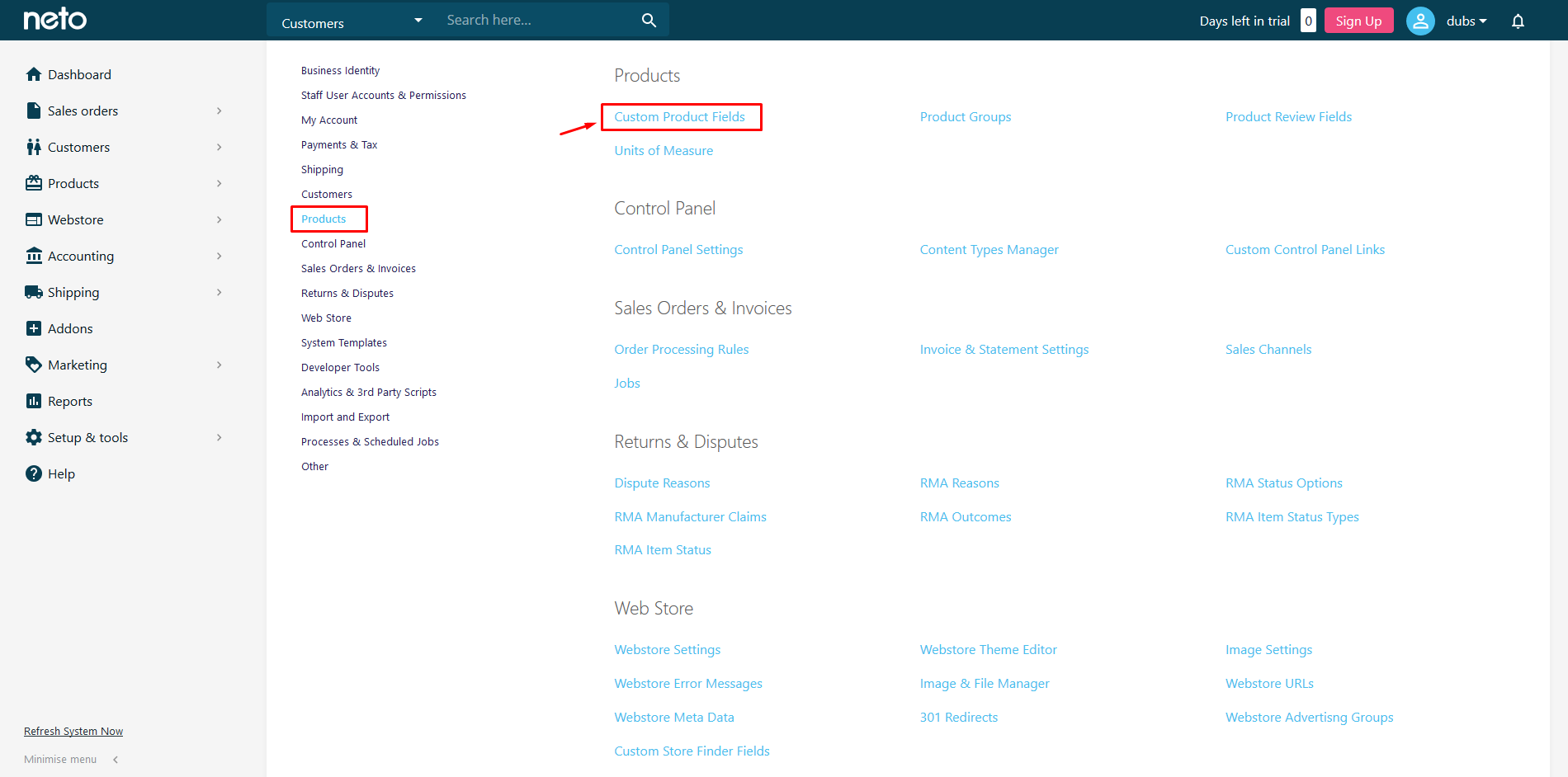 Only fields that you populate will display on your website. We suggest only using the fields you require. To determine the fields you require, you should add a product manually through the control panel and then build your product import file using only the fields you have populated.
Adding Products to Neto in 7 different ways
1. Control Panel
From the Neto dashboard, navigate to Products > Add Product.
See our anatomy of a product to understand how products appear on your webstore.
2. File Import
From the Neto dashboard, navigate to Setup & Tools > Import Data, select either a simple of complex import and select Products as type of import you wish to make.
You can find more information about importing products by visiting our import guide.
3. Application Programming Interface (API)
For experience programmers, you can use the API to add products.
You can find more information about our API Docs here.
4. Import from eBay
Using our eBay integration through the Neto Channels module, navigate to eBay > Setup & tools > Setup Wizard which will take through the steps of importing your products from eBay.
We strongly recommend reading our complete eBay launch guide before starting.
5. Import from Compatible Accounting or Inventory System
From the Neto dashboard, navigate to Accounting > Setup & Tools.
Look up your preferred accounting or inventory software in our support documentation for further assistance.
6. Data Migration
A professional service offered by Neto, we can migrate your data across from another platform.
See our data migration service's page for more information.
7. Through Neto POS
Add products through the Neto POS platform.
See more information about adding products on POS here.
Types of Products
There are 4 types of products in Neto:
1. Regular Products
For example a book, DVD or household item.
2. Variation Products
For example a product that comes in different colours or sizes.
3. Kitted Products
For example a value pack, hamper or kit.
4. Electronic Gift Vouchers
Virtual gift vouchers that are delivered by email to recipients.
Each type of product can be added using any of the methods defined above. This document will focus on importing products and the database fields associated with importing products.
Last Modified: 29/09/2016
Neto Version: 6.4