How social commerce could be a game changer
We live in a social world. As much as some of us hate to admit it, social media plays a significant role in our everyday lives – from news updates to obscure selfies – the world is documented through social feeds.
With over 2.078 billion active social media profiles worldwide[1], social media is a great way to not only market to customers but to leverage sales. But how can we do this?
Enter, social commerce…

What is social commerce?
Social commerce uses social media to help you sell. As a business owner, you can let customers share products from your website and now, allow them to buy products without leaving the social platform they are on.

Harness the power of social commerce on your website
Turn your buyers into brand ambassadors for your business! You can easily harness the power of on-site social commerce by letting your customers brag about their purchases.
1. Social sharing
Allowing your customers to share what they have purchased can be great for expanding your brand's reach. It also allows you to see which products are popular.
There are a number of great tools that can be used such as Share This and Add This. With the Neto ecommerce platform, we have set this up for you, so you don't need to worry about adding any additional code.
Protip: Setting your images, meta titles and meta descriptions are really important. If you don't set these, your customers will be sharing the product name with no image or description.

2. Customer reviews
Allowing people to write reviews on your website is also another way you can harness the power of social commerce. Why? Because you can use what real customers think about your products to encourage other buyers to purchase.
As a whole, using onsite social commerce is a great way to improve customer engagement, conversion and word-of-mouth.
Protip:
In your Neto control panel, make sure that auto approve new product reviews is unticked so that you have control over what sort of reviews are being displayed.
Learn more
about the intricacies of product reviews.

Harness the power of off-site social commerce
So what about the people who are browsing Facebook or Pinterest and have no really motive to visit your website? Here are a couple of ways your can use off-site social commerce to get more sales.
1. Get your Facebook store up and running
Having your store on Facebook is a great way to get people buying your products just by visiting your Facebook page. Why? Because it's another avenue for you to display your products and let your customers purchase.
A great example of this is how Nursing Angel have included their ecommerce store on their Facebook page.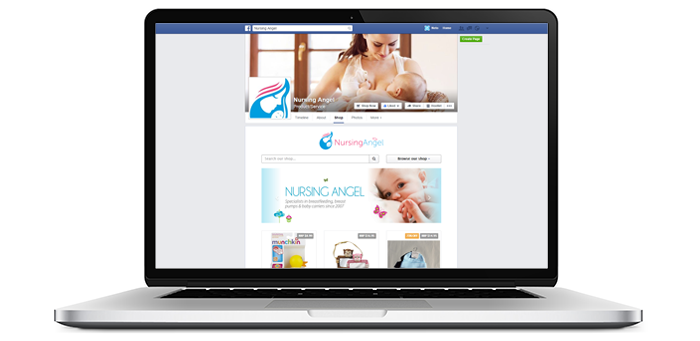 Protip:
You can easily set this up yourself in your Neto control panel. Here are
some instructions
to start using this feature.

2. Buy now button on Pinterest
Earlier this year, Pinterest was reported to be adding a "buy" button to pins[2]. What's great about this is that you can make a purchase while casually browsing and pinning. So many products… so little time!

My 2 cents
Don't underestimate the power of social commerce.
People love to share and brag about their latest purchases. This is definitely something to take into consideration when setting up or optimising your ecommerce website.
---
[1] Digital, Social & Mobile Wordwide in 2015, http://wearesocial.net/blog/2015/01/digital-social-mobile-worldwide-2015/
[2] Pinterest Is Working on a Plan to Introduce a 'Buy' Button as Soon as This Year, http://recode.net/2015/02/12/pinterest-is-working-on-a-plan-to-introduce-a-buy-button-as-soon-as-this-year/