Neto Protip: Never miss out on important Neto news again
Working too hard on building your business to read the latest in Neto News on our blog? Thankfully we've got you covered with the Neto News widget.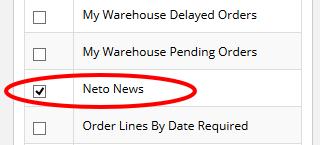 The Neto News widget will display all the latest news and blog posts directly on your Neto Control Panel dashboard so you can stay up to date no matter how many candles you are burning at both ends.
To add the Neto News widget go to your dashboard. Add a new widget using the Widgets and Midgets tool and select Neto News.
Now position your new widget on your dashboard in the desired location by dragging it with your mouse and you will never miss another one of these protips again.